BUILDING raised Garden Beds can be expensive. I'm a wanna be gardener and just the cost of buying plants can be risky for me. However, I'm determined to give it a try.
I'm sharing How to Build Cheap DIY Raised Garden Beds, as well as other inexpensive gardening alternatives. Helpful tips for when you aren't sure of your gardening skills because there are many options. You seriously need to consider your skill level prior too investing. Here are some ideas to help you make your own inexpensive raised garden beds.
Options for Raised Garden Beds Ideas
Build your own beds
Purchased containers or raise bed kits
Creative Raised Beds from vintage finds
Use recycled materials
Don't have a lot of space, plant your vegetables around your landscape plant.
Consider the Cost and Your Skill Level
After building our DIY Greenhouse, I didn't automatically turn into a master gardener.
Actually, it was seriously the opposite.
My gardening skills are more like hit and miss.
\We built two inexpensive rustic raised beds from materials left over from another project.
Although I did gather some produce from those beds, when I factor in the cost of the soil and the plants themselves, we lost money.
Early spring view before we started the new beds. You can see how we built the greenhouse here.
So fast forward to this year and I'm not a quitter!
I suggested to my husband that we needed more raised beds.
Yes, I got the raised eye brow look. LOL. "How many do you want" he asked? "Two at least" was my reply.
I'd love to have some like my master gardener friend, Stacy Ling at Brick N Blooms, installed this year. They are exactly what I wanted.
After some calculations, we (my husband) decided that the cost might not be worth it.
You have to take into account my limited skills in this area, or so he said. LOL
Should You Build a Raised Garden Bed?
Raised Garden Beds are gaining in popularity because you can create one regardless where you live.
Gathering ingredients for a meal from your own vegetable garden or herb garden is very appealing.
A Cutting Flower Garden is another way to have the house filled with fresh flowers for a fraction of the normal cost.
In addition, these gardens can be created in a small patch of yard, around your landscape and even on your patio or porch. So don't dismiss the idea of planting a garden based for lack of space.
First, determine where you would like to have your garden and then use these ideas to determine which style of raised bed would work best for you.
The size and location will determine whether your area is more suited for vegetables, herbs or flowers.
Consider your skill level prior to investing. You can begin by intermingling your vegetables with your existing landscape to test your skills.
---
Build Your Own
Since my skill level was in question, here's what we did.
One of the most inexpensive ways to create a raised garden bed is to build your own.
There are a few different options that don't require a lot of construction skills.
These methods are best for a fairly level spot in your yard and you can plan for a vegetable or flower garden.
It's easy to purchase your lumber and have it cut to the length at most home improvement stores. Then all you need is to attach the boards to make a box. You can use screws or nails to attach the boards together. It's a relatively simple process for my husband to do.
Brad quickly assembled the frames using 2- 8′ x 8″ lumber and attached 2- 3′ x 8″ ends using nails.
---
Please Note: I obviously don't profess to be an expert in this area and I'm just sharing my experience. If you have concerns about materials and safety, please consult a professional before beginning construction.
---
However, here are a few tips that have worked for me.
First, you can make the beds as long as your desire, however you want the width to be manageable. If you make the bed really wide, you have to step into the soil to reach your plants. I recommend approx. 3 feet wide maximum.
In addition, you want your bed to be at least 12 inches deep. Up to 18 inches if you are planting root based vegetables such as carrots, beets, sweet potatoes, etc.
If you are working in an area with grass, you should put down a barrier to prevent the grass and weeds from growing up in your bed. You can use newspaper, card board or purchase weed control fabric.
When planning a deep raised garden bed begin by filling the bottom with less expensive soil and then use richer garden soil on the top.
Note: Due to the cost of lumber, we only added one additional bed using this method.
I was in charge of making sure the bed was level and Brad filled the beds with garden soil. This was a deep bed and required a second trip to the garden store for more soil, much to Brad's dismay!
---

---
Creative Vintage Ideas
I had started some flower's from seed and wanted a fun place for them to grow.
I had been watching an old iron bed frame rust away for several years and decided to ask if I could rescue it.
I got the bed for free and used several old bricks to create a raised bed. . All I needed some some dirt and my husbands help getting the frames to stand up for my Raised Garden Bed.
You can get creative by using vintage rustic finds such as old wheelbarrows, truck beds, bed frames, old bicycle baskets, rusted out chairs or other garden seats, cast iron pots, etc. Almost anything goes when creating a creative raised garden bed and they are charming with an abundance of flowers or herbs spilling from their frames. Such a cute and inexpensive raised garden beds idea.

After filling with garden soil and adding some plants, we added a row field rock to the top of the old bricks.
I'm slowly adding flowers to the DIY Flower Bed.
Recycle Materials for Inexpensive Raised Garden Beds Ideas
Another cost effective way to create raised garden beds is to use recycled materials. Using old pallets is one easy way to create a shallow bed. All that is necessary is to seal off around the edge of each pallet to form a box. Fill with garden soil and the top slats work as dividers for plants. These work well for smaller low growing plants like cucumbers, peppers, and herbs.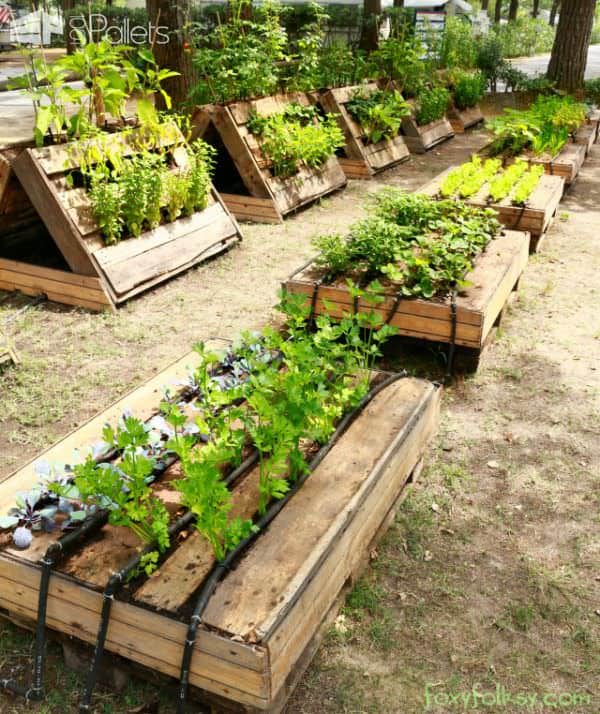 Also, a great recycle idea is to use old plastic crates or storage bins. Old crates may need additional materials to avoid the dirt from seeping out and storage bins would require some weep holes in the bottom. However, they are both a cost effective option for creating inexpensive raised garden beds ideas.
You may also enjoy How To Split A Lilac Bush to help increase your garden on a budget.
I hope to have this whole area filled with flowers and vegetables this summer. I'd love to have a flower garden like my friend Kim at Shiplap and Shells one day. It's definitely not there yet, but a work in progress. I really appreciate you for letting me share the process.
Know What You Are Good At
Here is a little update from last years experience.
I am finding by trial and error what does well in my garden and what I shouldn't waste my time and money on.
I recommend keeping a journal and to record your planting dates, what grew well and what didn't.
I've scaled my planting back this year to just a select few vegetables that produced well and saved us money last year.
The same is true of my flowers. I now know what will flourish and what doesn't. I'll continue to try new things but if something is a flop two years in a row, I mark it off my list.
Keep a record and you'll save time and money over the all haul.
Thanks for stopping by and best of luck!
Pin It To Remember It