Welcome to our Patriotic Tablescape Blog Hop. Today I'm sharing how to make a cheap & easy patriotic table using scrap fabrics, thrift store finds and inexpensive items you have on hand.
It all began with scrap fabric. I'm sharing how one thing leads to another and before you know it, you have a Made Easy Patriotic Tablescape. By using scrap fabrics, inexpensive table accessories and items you have on hand, you can use these handmade tips to create a fun and inspiring Fourth of July Table.
Today I'm joining a group of talented friends for a Patriotic Tablescape Blog Hop hosted by Kristin at White Arrows Home. Be sure to link to their inspiring tables at the end of this post.
The Made Easy Tablescape Setting
Since I'm loving our new greenhouse so much, I decided it would be fun to celebrate the Fourth of July by creating a Easy Patriotic Tablescape on the center table.
However, you know I had to style the whole greenhouse because that's just what I love to do.
You will see how this potting table was built here. Today it is styled with a drying rack from Vintage Cottage, a vintage tool box and a handmade cloche.
---
How the Made Easy Patriotic Tablescape Began
The table runner was one that I had purchased a few years ago and I wanted some napkins that would coordinate with the runner. However, my search was not successful and as often happens, I decided to make them myself.
Having a lot of scrape ticking fabric came in handy to make these fun Patriotic Napkins and to create whimsical chandelier decor.
The pocket on the DIY Patriotic Napkins is perfect for holding the silverware.
See step by step instructions to make your own here.
(Posts on The Ponds Farmhouse may contain affiliate links. As an Amazon Associate I earn from qualifying purchases. See the full disclosure details here.)
Other Fourth of July table Decor
The place mates, paper straws, red metal buckets and mini flags were all very inexpensive. I love using my Bee Glasses for summertime entertaining because they work well with almost any summer theme.
A Thrift Store Basket filled with plants and flags serves are the center piece for our Fourth of July Table.
For tips on Thrift Store Shopping click here.
---
The corner desk also received a patriotic touch with some fresh cut red geraniums and a flag.
---
Fabric strips and hand stitched stars hang from the Re-purposed Chandelier.
I shared the chandelier transformation on a previous post, which you can see here.
---
Vintage Ironstone Dishes are the perfect base for this 4th of July Patriotic Theme.
---
Shop This Space

The Chandelier Arrangement
To create a fun patriotic chandelier, you begin by stripping the red and blue ticking fabric. Start by using scissors to cut a 1/2″ slit at the top of your fabric and then strip the fabric by hand. Because you want a raw frazzled edge, be sure to use 100% cotton fabric for this project. Continue to make as many fabric strips as you desire and then tie them to the chandelier in varying lengths.
The drop cloth fabric stars were originally made for the napkins, however I later decided to use them on the chandelier.
You can see how they were made here.
Adding a flag to your plants is an inexpensive way to create some patriotic whimsy.
The center table is bar height, so we added a few seats from my bar stool collection.
In addition, adding fun paper straws is an easy way to add a patriotic touch to the table.
---
The handmade DIY Patriotic Napkins were a spur of the moment idea and I shared all the details here on my last blog post.
The DIY Apothecary Cabinet is actually an IKEA transformation. You will not believe the before photo's and you can see them here!
I filled this handmade thrift store basket with a live fern and my mom's old watering can.
Happy Fourth of July Week. I hope you enjoyed this inexpensive Made Easy Patriotic Tablescape. If you have questions or comments, please leave them below.
Don't forget to link to the next blog for more inspiration and fun ideas on creating a Patriotic Table.
The Patriotic Tablescape Blog Hop continues….. Check out my friends inspiring tablescapes!
Stacy | Bricks n' Bloom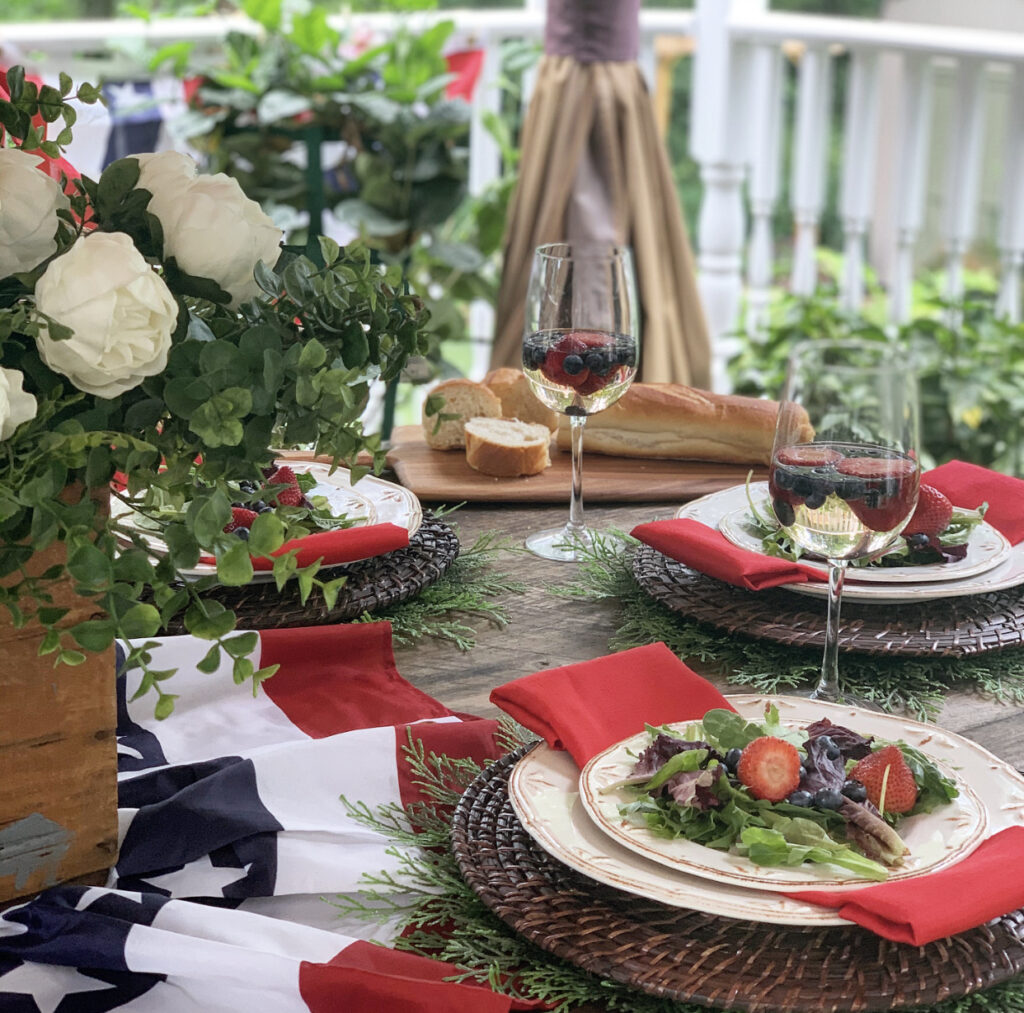 Kim | Shiplap and Shells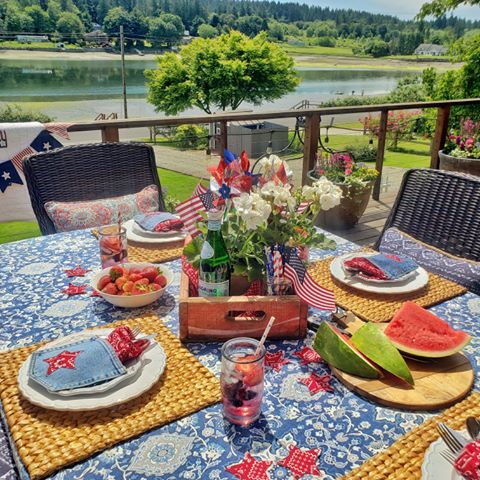 Ann | Dabbling & Decorating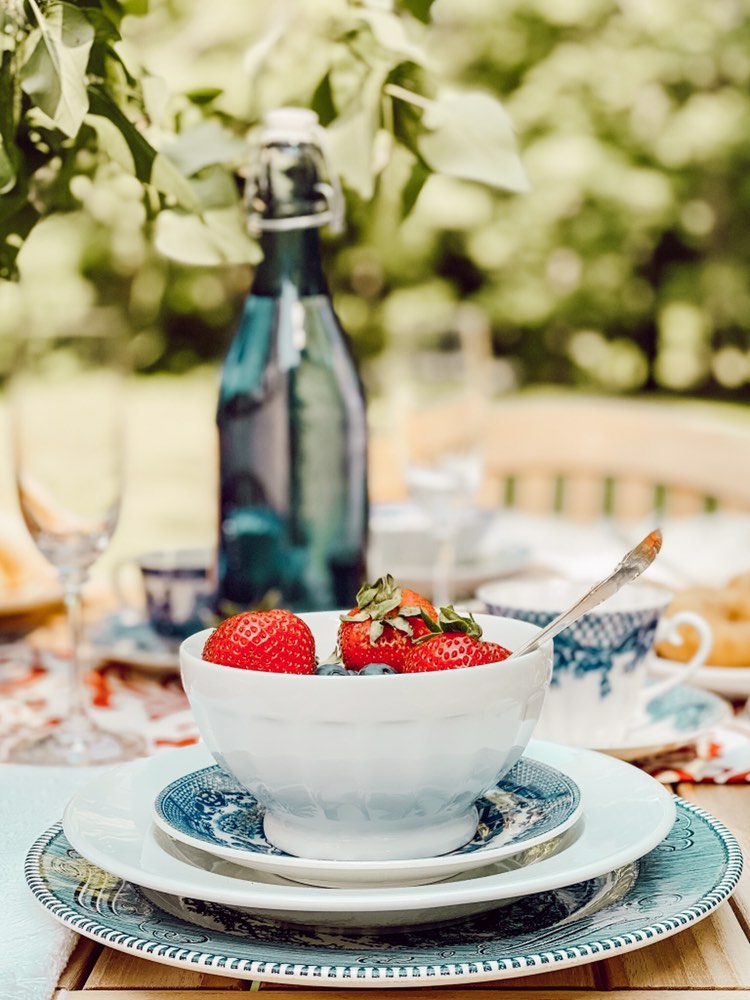 Kristin | White Arrows Home