Y'all I finally did it! I painted my kitchen island. I've been talking about it since the winter and this week I finally broke down and did it. We made it home from vacation and I'm getting back on schedule finally.
Today I'm sharing about my amazing Chalk Paint Wax adventure from this past week.
Kitchen Island Before – It's was originally painted a gray tone called French Linen. You can see more – How to Build a Farmhouse Kitchen Island.
I've been saying I was going to paint the island for months and since I didn't have anything to do, (after coming home from a two week vacation), it was the perfect time. LOL
I decided what the heck, it's only paint!
And I can wash clothes anytime. Am I right?
So I began the project without much thought or preparation, which is how I start most of my projects.
Very quickly, I was feeling sorta nauseous. Everything was turning green and oh so bright. Yikes!
---
---
---
The Miracle of Chalk Paint Wax
I decided I couldn't continue until I was sure I'd could live with this new color.
I knew from previous experience with chalk paint techniques that the wax can completely change the appearance of the paint.
I mixed dark wax with clear wax and did a test on the drawers. Such a difference.
---
Buff Chalk Paint Wax
Once the wax was dry and buffed with a cloth, it was looking much better. The dark wax toned down the brightness and I was feeling better.
---
My Green Kitchen Island
Here is the result of my afternoon adventure. The project took approx. 4 1/2 hours to complete.
---
What do you think of this color?
---
It's still brighter than I had planned so I'm not so sure how long it will stay this color. I'm going to live with it for a few days.
If I go missing for approx. 4 1/2 hours, you might find me here with a can of grey paint. LOL
---

Other Adventures at the end of the Dirt Road
In addition to my chalk paint wax adventure, I came home to my cheap raised bed full of blooms. These blooms are all from seeds that I started over winter. This was my first attempt at starting seeds for planting.
I was so excited to see the beds full of blooms.
I was happy to see butterflies enjoying my blooms as well. Maybe one day my garden will look as good as my friends Stacy & Kim. You'll see what I mean if you keep reading.
---

---
Last Weeks Blog Adventures – In Case You Missed it
How to Make An Address Sign – tutorial –/– Best Thrift Store & Vintage Decor Ideas Blog Hop
---
Adventures off the Dirt Road
Why Didn't I Think of That?
Each week there are so many wonderful blog posts, and I'm sharing some of my favorites with you today.
There are so many creative ideas, and I'm always asking myself, "Why didn't I think of that"? LOL
Maine is on my bucket list of places to visit and I loved how Ann at Dabbling & Decorating set this beautiful table. I'd love to be a guest for the Lobster Dinner.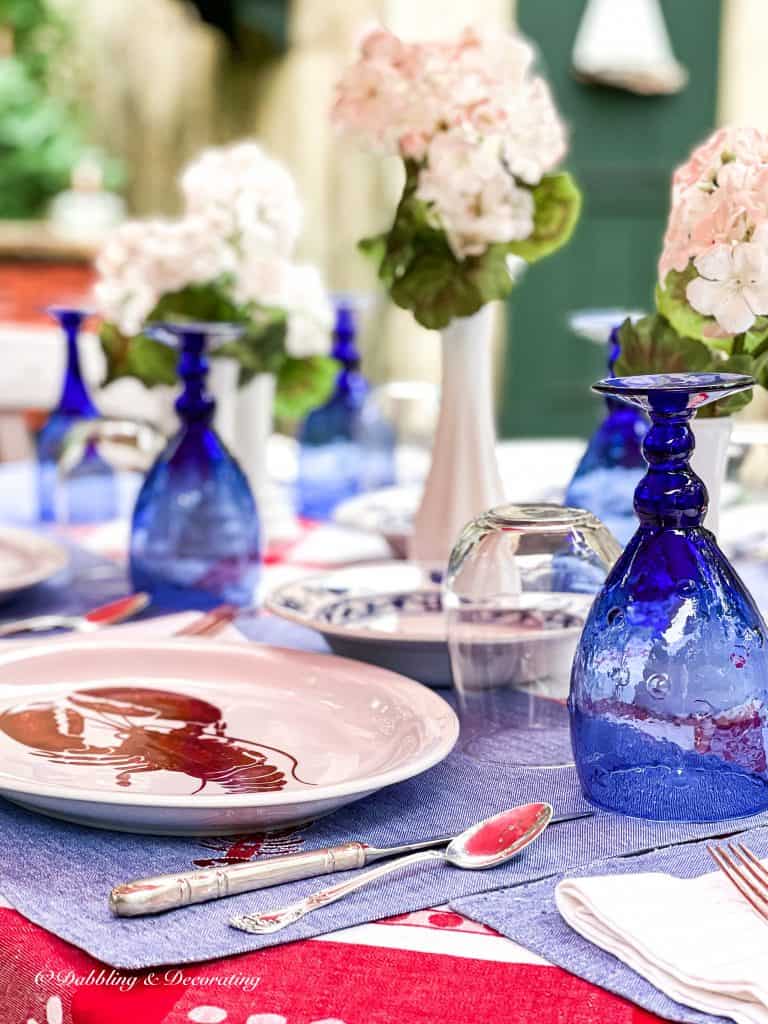 ---
Y'all I was so excited about my little blooms but they don't compare to my friend Kim at Shiplap and Shells. You'll want to see the full garden tour.
---
And if that wasn't enough eye candy, you have to see Stacy at Bricks N Blooms garden. Don't even look at my previous garden photo's because there's no comparison.
---
Bits and Pieces and more Chalk Paint Wax Ideas
Do you like to read? Check out these great recommendations from Kristen at White Arrows Home.
See this Flea Market Transformation using Chalk Paint and Wax.
I love this painted wooden tray makeover by Cindy at Reinvented Delaware
Michelle at The Painted Hinge shared How to Upcycle Victorian Spandrels for Decor. Great Farmhouse style decor.
---
Happy Mail
I wanted to share some of the Happy Mail I received while I was on Vacation. You can shop by clicking on the lighted links below.
First, I've started receiving fall items from Piper Classics that I'm loving. The fun Hydrangea Print is perfect on the this Chalk Painted Shelf and the cute Heatherwick Berries candle rings look perfect with the print.
I love using these candle rings as napkin rings as well.
---
Antique Candle Company added a new vintage inspired blue jar with Mama's Kitchen Candle Scent. These will sell out fast so be sure to click here to see all their amazing scents. Mama's Kitchen is also available in regular packaging.
The Blue Jar Candle looks great in the Astible Yellow Candle Ring from Piper Classic.
---
Thanks so much for stopping by today and I look forward to sharing my next adventures with you.
Pin it to remember it
---