I hope you are enjoying your Easter Sunday! Last night we celebrated my husbands retirement with a few close friends and family. It will be interesting to see how this first week of retirement feels for him.
Today on Dirt Road Adventures – The Adventure Begins, I'm taking a look back at this past week and sharing some details about the Retirement Celebration we hosted last night at The Ponds.
The Adventure Begins – Celebration Menu
Easy Corn Dip – see recipe here.
Pulled Pork Bar-B-Que – my husband cooked two pork butts – See how below
Slaw
Baked Beans
Rolls
Friends added to the menu with Appetizers and Dessert
Y'all know my husband loves to grill and he loves his smokers. He actually built one himself. However, he has discovered a new way to cook his Pork Butts and believe it or not, they may be better than smoked.
He prepared two for last nights retirement celebration and here's what he did.
Preheat Oven 300 degrees.
Rub Salt and Pepper over the entire Pork Butt and place on a searing burner for 8 minutes to get a good crust on the top side of the Butt. (No need to sear the the fat side of the butt)
Ingredients:
1 cup Chicken Broth
1 cup Beef Broth
1/2 cup Apple Cider Vinegar
2 Tbsp Ketchup
2 Tbsp Mustard
Juice from 1 Lemon
1/2 Medium Onion – sliced thin
4-5 dashes of preferred Hot Sauce
Mix above ingredients and pour into a large cast iron dutch oven. Place the Seared Pork Butt with the fat side down into the dutch oven. Cover with lid and cook for 8 hours.
Remove from oven and lift pork butt out of the liquid, leaving any fat behind. Shred the pork and serve. It will be so tender, it will fall apart. Delicious.
---
Spring is in the air
We are beginning to enjoy some Spring Blooms around the DIY Greenhouse. I thought I'd share a couple of photo's.
The seeds I planted are thriving and I look forward to adding these to my garden. If you are looking for tips on planting seeds and other gardening tips you need to check out my friends Stacy Ling – Bricks N Blooms and Kim – Shiplap & Shells.
They are the experts and I refer to their posts all the time.
This is a look back at all my adventures this past week.
This past week was filled with DIY Adventures and getting ready for the celebration party. So y'all know it meant a lot of house cleaning and getting the menu together.
The adventure began with this DIY Terra Cotta Pot Spring Wreath.
Thanks for all the positive response to my wreath. I wanted to share another version of this wreath from my friend Chloe at Celebrate and Decorate. Her wreath is very similar but instead of pansies, she used succulents to brighten her pots. Isn't it gorgeous?
Next, I shared how to make a Gardening or Craft Apron using a tea towel. It's so easy to make and allows you to carry all those tools and keep your hands free.
Adventures off the Dirt Road
Why Didn't I Think of That?
Each week there are so many wonderful blog posts, and I'm sharing some of my favorites with you today.
There are so many creative ideas, and I'm always asking myself, "Why didn't I think of that"? LOL
Since I focused on DIY Projects last week, I'm sharing some more that caught my eye from my friends around the web.
Libbie at Life Unfolding shared 5 Easy Ways to Elevate your Dollar Store Vases. See the other 4 options here.
Carol at Blue Sky at Home shared how to make these adorable Fabric Covers for Clay Pots. They are so cute.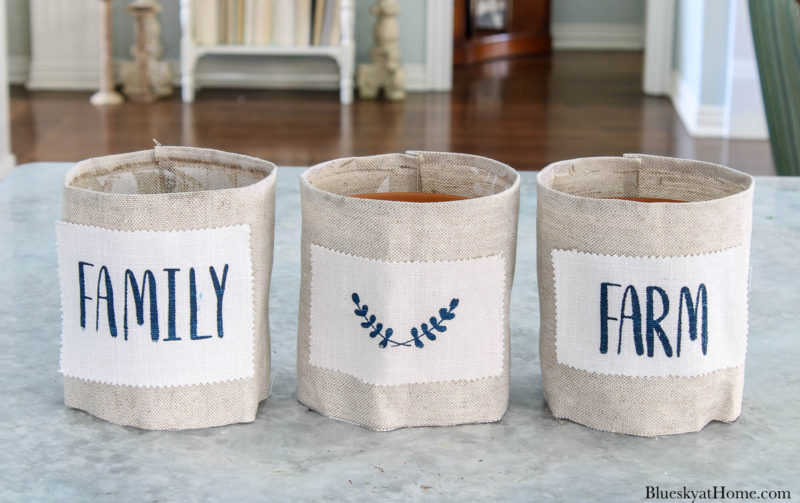 Michelle at Thistle Key Lane showed us how using Simple Buckets to make a Container Garden can be so lovely.
Thank you so much for stopping by today and I hope your Easter Weekend is wonderful.
Next week, I'll be sharing the Master Bedroom Update and more DIY projects.
Y'all have the best day!