Are you dreaming of a White Christmas?
Today on Dirt Road Adventures, you'll see all the adventures I've had this past week and some really inspiring things my friends have been up to. In addition, I'm taking a look back at a magical time we had here at the Ponds one Christmas evening.
We almost had a White Christmas but in reality, the snow didn't begin until later on Christmas afternoon 12/25/2010.
Although this was well before we moved here, we decided to stay at The Ponds for the snow and it was a magical time. Here is what 12/26/2010 looked like.
Pond Views
Being a mile in the woods, surrounded by all this, was a wonderful almost White Christmas experience.
Thank you so much for joining on the adventures today. Please let me know if there is something you'd love to see here.
This is a look back at all my adventures this past week.
The busy holiday decorating continues as Christmas is fast approaching. Here is our front doors refreshed with new hardware from Delaney Hardware.
In order to see the whole tour, click below.
5 Christmas Farmhouse Porch Ideas
---
These DIY Topiaries are so easy to make and keep your house smelling like Christmas.
DIY Real Cedar & Orange Topiaries & you can see this post to make a real cedar garland that wont fall apart.
---
Butterfinger Martini's made using Homemade Kahlua Recipe can both be found on this post.
The screened porch is all dressed for the hoidays using these 5 Creative Table Ideas.
5 Creative Table Idea's includes this cute DIY Table Runner Garland
Adventures off the Dirt Road
Each week there are so many wonderful blog posts and I'm sharing some of my favorites with you today.
A Clever Entertaining Idea
Maybe the most creative idea I've seen lately as I was searching for more clever adventures off the dirt road. My friend Michele at Vintage Home Design, adds waitress aprons to her chairs and fills them with greenery and cutlery! Serving buffet style, the cutlery is waiting for each guest at their chair.
A Recipe – Perfect for the Holidays
My friend, Jennifer at J Dubby Design shared these yummy Butter Pecan Cookies and I wanted to eat the screen. LOL I can't wait to try them over the holidays and you will want to as well. In addition, you can click the photo for all the details, just don't lick it. LOL
A Winter Gardening Inspiration
Even on a dirt road, there is nothing more beautiful than lovely containers filled with natural greenery. My friend Stacy at Stacy Ling, Brick N Blooms shared how to make these gorgeous arrangements for your winter porch.
A Thrifted DIY
Next is a thrifted, fun and creative DIY project from my friend Lora at Lora Bloomquist. She used vintage tart molds to create a cute wreath and Christmas Tree on wood. You will want to see the full tutorial here.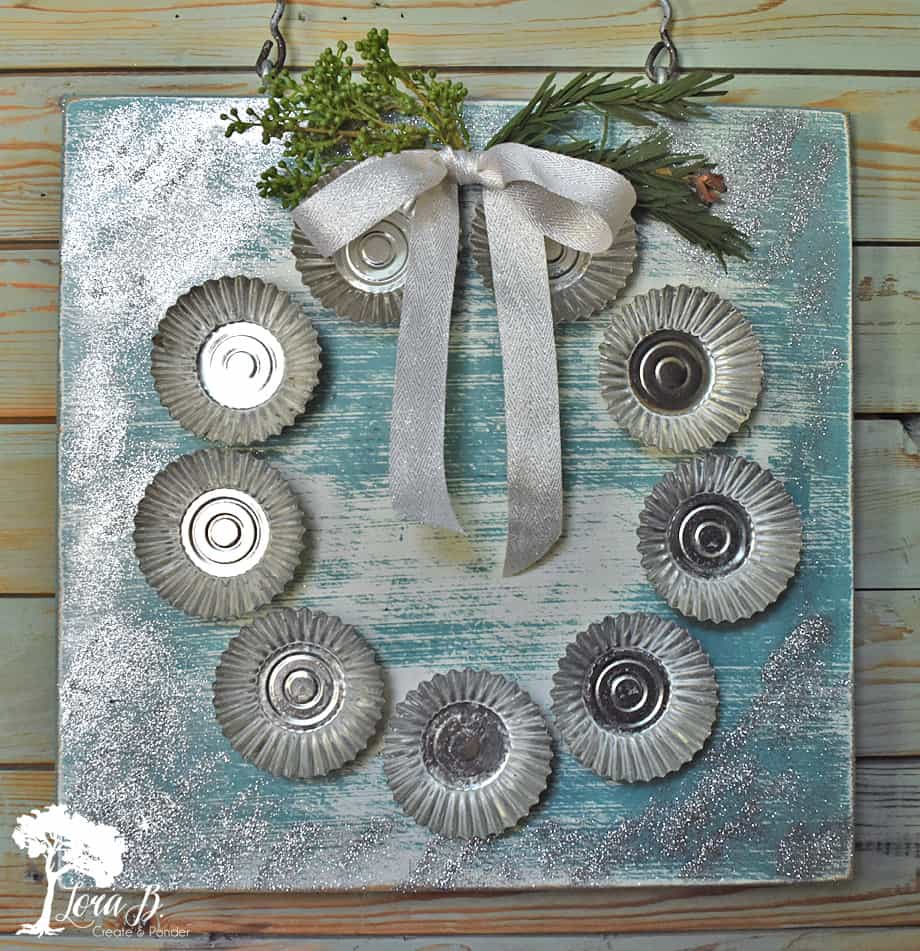 Thank you for Joining Dirt Road Adventures
Thank you so much for joining me today on Dirt Road Adventures! By this time next week, most of the festivities will be over. May you have a safe and joyful holiday time.
In addition, from the bottom of my heart, Thank you for being here.
XOXO,
Rachel