Hey Y'all I've been having the best time celebrating my Birthday.
We are not going to talk about the age thing, but I have had a great week leading up to my actual birthday!
It began with a Wine Expo that I attended with a good friend on Wednesday.
Then we had a fun Trunk Show at our shop downtown and I got to see and chat with some friends that I've not seen for some time.
Next, my daughter and son in law took us to see Beautiful at the Tanger Center in Greensboro.
It was AMAZING to say the least!
I'm so excited about this new state of the art facility which is a wonderful addition to downtown Greensboro. We saw Wicked there last month.
Me and my girl!
After the show, we enjoyed a wonderful dinner at Kau in Greensboro. Such a great restaurant. I had the short rib bowl. Yum!!
Needless to say, I'm feeling pretty pampered today, my actual birthday!
---
Adventures at the End of the Dirt Road
All week I've been decorating and working on DIY projects so the birthday treats were a great reward.
I can't wait to share my Christmas decor with you over the next few weeks.
First, let's look back at what happened on the blog this past week.
---
In Case you missed it
The week began with these great storage ideas and I appreciate all the wonderful feedback on this post. This is a perfect storage solution that helps you to identify exactly what you have stored and where.
If you missed it, you can read all the tips here.
I finally finished a fun sewing project and you can see how to make this patch work table cloth here.
I pulled out my Dried Fruit and Herb Garland and added new herbs to use again this year. It looks brand new and you can see all the details here.
See Updated Garland Video Here
I also shared 15 Inspired Christmas Tree Ideas with some updated information.
See How to make these Christmas Napkins with a SEW and NO Sew Method – Here.
---
Adventures off the Dirt Road
Why Didn't I Think of That?
Each week there are so many wonderful blog posts, and I'm sharing some of my favorites with you today.
There are so many creative ideas, and I'm always asking myself, "Why didn't I think of that"? LOL
Southern Home Designs – Use a Birch Branch to Hang Christmas Stockings
I love how Ann at Dabbling & Decorating creates a cozy conversation space in her Vermont home.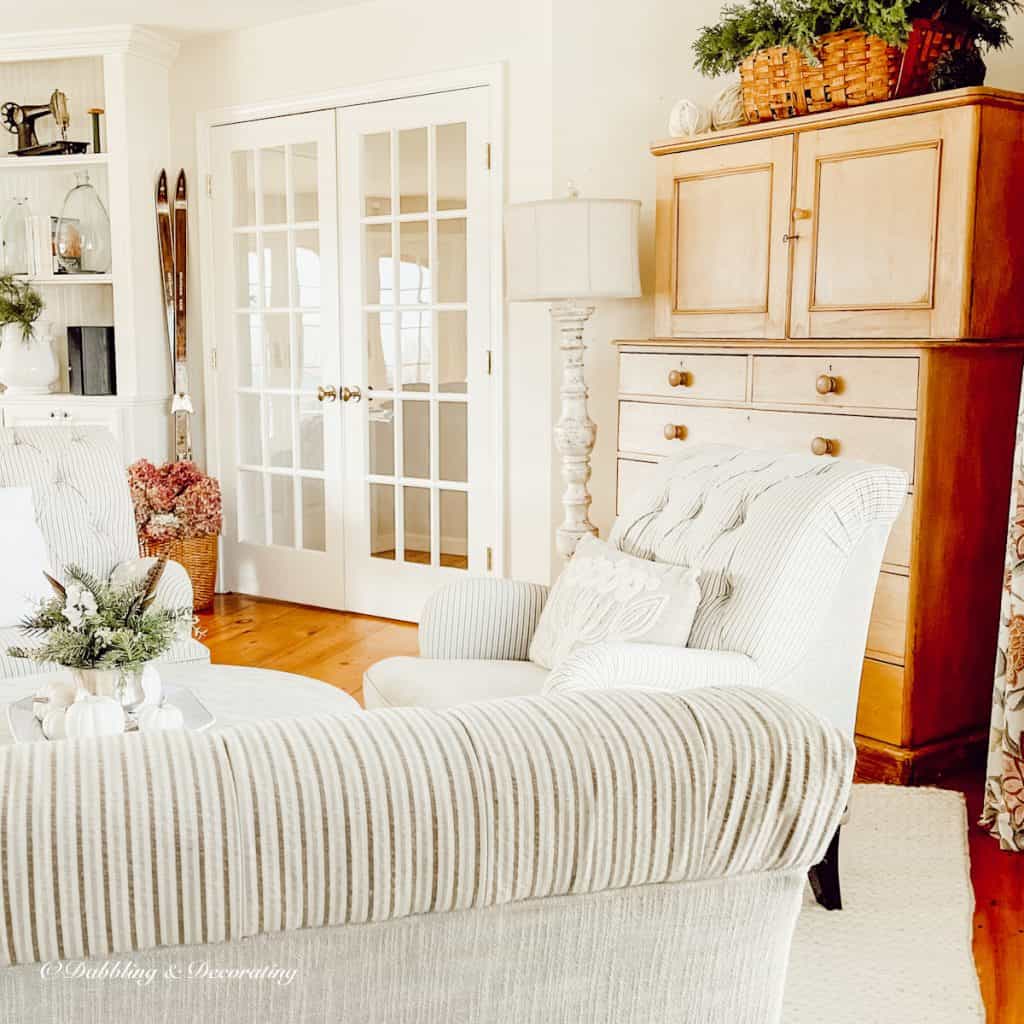 Salted Caramel Crumb Bars – Inspired by Charm
I loved these bargains Stacy Ling found to get a Pottery Barn Cozy Christmas look.
Kim at Shiplap and Shells shared this Great Holiday Hostess Gift Guide
Check out this Affordable Modern Cottage Kitchen Makeover from Jen at Midwest Life & Style.
Thanks so much for stopping by today! I look forward to sharing my next adventures with you!