Now that Labor Day is behind us, it's time to focus on fall decorating. Today I'm sharing 11 Table Centerpiece Ideas for Fall Decorating by using thrifted, DIY, and collected items to create unique decor for Autumn entertaining and dinner parties.
A table centerpiece is almost always a focal point in a room. Whether you are setting the table for a family meal, a dinner party, or want a pretty table, the centerpiece is so essential.
Today we are focused on budget-friendly fall centerpiece ideas to help you keep your decorating expenses to a minimum this fall.
Let's take a look at these blast from the past favorites.
What is a Table Centerpiece?
When considering a table centerpiece, a floral arrangement often comes to mind.
However, according to Merriam Webster, the definition is: "an object occupying a central position especially: an adornment in the center of a table."
Alternative Centerpiece Ideas
Therefore, not all centerpieces have to be floral. Here are a few examples of alternative centerpiece ideas.
Vases of flowers, greenery, sticks, etc.
A bowl filled with fruit, vegetables, ornaments, etc.
Candlesticks and candles
Ornamental Vase or container left empty
Lanterns
Grouping of small table accessories such as silverware, salt and pepper shakers, stacks of decorative dishes, etc.
Rustic Greenhouse/She Shed Table Setting
The greenhouse/she shed table looks festive and decorated for fall.
It includes 5 Creative Fall Tablescape Ideas, including the centerpiece.
The table is 8 feet long, and a scrunched tablecloth runs the center of the table. In addition, a vintage wooden riser anchors the table's center and holds a vintage handcrafted basket filled with faux rust and creme stems.
DIY Tin Can Lanterns provide candlelight next to the arrangement.
Table Centerpiece Ideas for Porch Dining
Here is a unique table centerpiece idea in which you use a long tray for the table center. This one is filled with faux stems, dried okra pods, and mini pumpkins to create a fun table centerpiece.
This was a fall table that introduced these Packing Material Plate Charger's.
Last year's porch table was filled with many DIY projects. However, the centerpiece was effortless.
It consisted of a tobacco stick lantern filled with faux fall berries and an Antique Candle Co. candle.
Then it was surrounded by vintage brass candlesticks with chunky white candles.
To see all the details about this table, check out Table Decor Ideas For Fall.
Finally, this Amazing Late Summer Tablescape centerpiece consisted of a simple candle ring filled with vintage brass candlestick with fresh flowers tucked into the mix.
Fall in the Outdoor Kitchen
I love this Cheap Outdoor Table Centerpiece Idea from a few years ago.
The thrifted DIY Earthenware Vessel was easy to make and very inexpensive. To fill the vessel for a fall centerpiece, I gathered flowers from the late summer garden and pulled autumn leaves from the surrounding trees.
Simple but beautiful table centerpiece ideas.
Another fun theme was a Fall Campfire Party, and I purchased battery-operated lanterns to light the outdoor table. Faux pumpkins and fall stem surrounded the battery-powered candle.
Lastly, another DIY Budget Friendly Fall Centerpiece consisted of fresh cut leaves and florals with the addition of fall plants before they were added to the garden. A few pumpkins, gourds, and herbs completed the fall table centerpiece.
Vintage Picnic Centerpiece
This Vintage Fall Picnic Centerpiece was such a fun table setting for the pier. Using the vintage picnic basket as the actual centerpiece was easy to accomplish.
To keep the fresh-cut flowers from drooping, fill a vase with water and place it inside the picnic basket. Then make sure all the stems are in the water before closing the basket lid.
A few faux apples and a napkin spilling from the basket helps hide the vase from view.
Late Summer Blooms and Herbs
This is just one of the ideas you'll see on Fresh Flower Arrangements for Fall Centerpieces.
Take advantage of any blooms still hanging around for the first frost.
If you don't have an abundance of blooms, cut some fresh herbs or fall leaves to fill any gaps in your arrangements.
Thanksgiving Centerpiece Ideas
You know that a fun centerpiece is a must for your Thanksgiving or Friendsgiving tablescapes.
This Thrift Store Thanksgiving Tablescape was so fun to put together using nothing but thrifted tableware.
The large hurricane lantern is one of two that I got for a song while Thrifting with the Gals. The large candlesticks, water glasses, dishes, and dessert parfait cups came from thrift stores.
The acorns were gathered from underneath our trees to fill in around the candle, safely enclosed in a glass jar. The more miniature grapevine wreaths foraged, the larger one was also thrifted.
Lastly, the Idea for Fall Friendsgiving Table Centerpiece combines 2 DIY Twig Containers and Craft Paper DIY Leaves, similar to the Leaf Garland made for the porch.
The vignette was completed with a large wooden slice to anchor all the pieces, a few faux gourds, and a vintage amber bottle to complete the trio of containers in the centerpiece.
When putting together a vignette, it's always best to use an uneven number of like items.
I hope you enjoyed all the centerpiece ideas.
Up next, check out these other 5 Blog Posts for more great tips and ideas!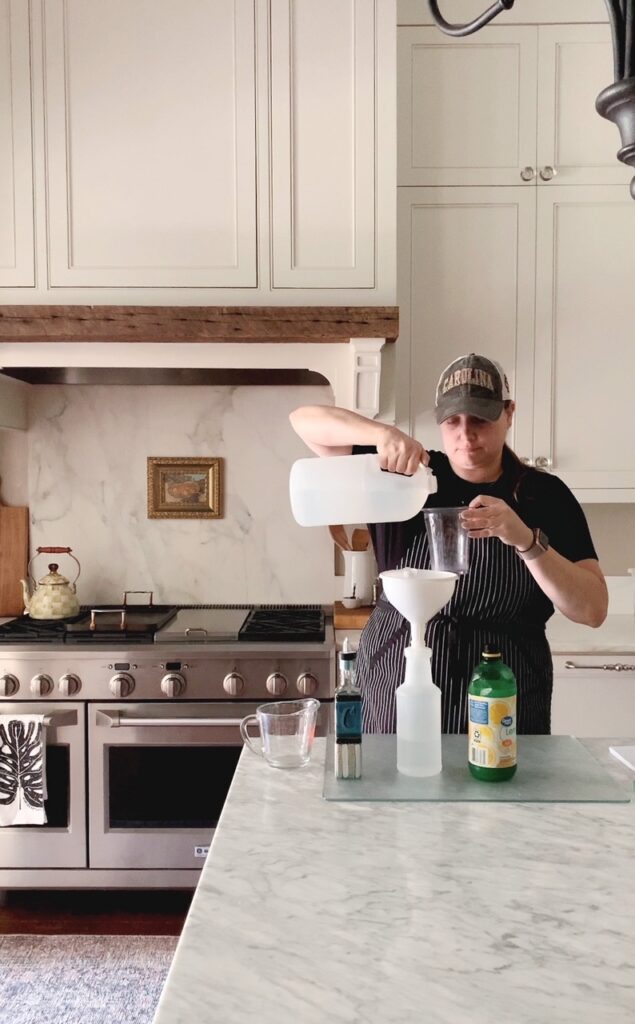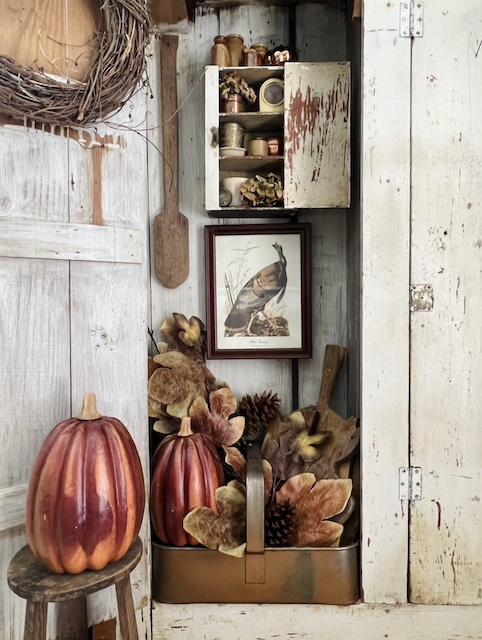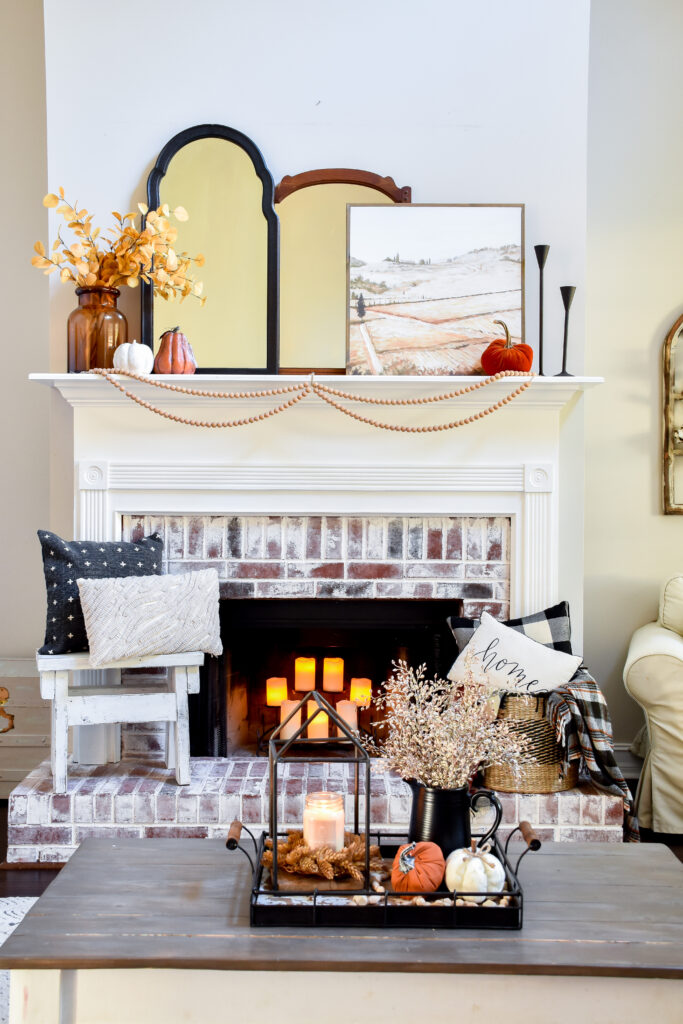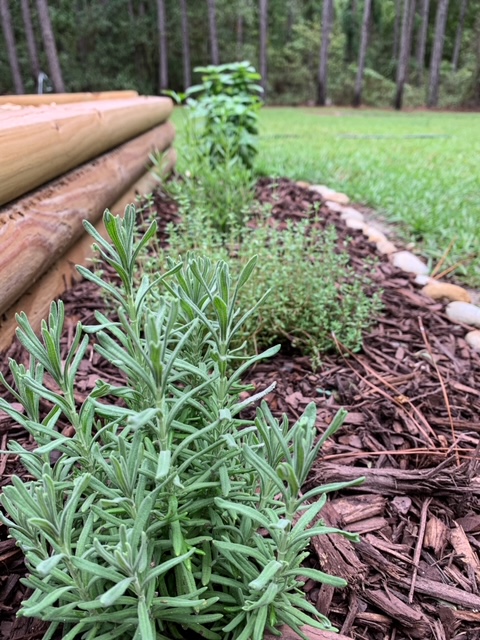 PIN IT TO REMEMBER IT