In Memory of my Mom, I created a table setting using Dishes like those she used when I was a little Girl. I hope you enjoy this table decor inspiration.
Since this is my first Mother's Day without my Mom, I choose to create A Memories of Mom Tablescape for the blog hop. These last few months have been about cleaning out her home and bringing home treasured pieces of her life. I recently shared about how to use those treasured old family photo's, here. Today I'm honoring her memory by setting a table using a set of dishes like she used when I was a child.
The Perfect Setting
I decided to place my tablescape on our pier. I can remember my Mom taking us to The Ponds and letting us fish while she planted flowers around the little cabin. We couldn't fish off the pier because she was afraid we'd fall into the pond.
The Dishes – Memories of Mom Tablescape
My mom never had fine china and what she did have was used daily. We grew up with 3 home cooked meals a day. Needless to say, we only found one heavily chipped Boutonniere plate when we cleaned out my Mom's house. Thankfully, this set of dishes was perfectly preserved to allow me to create this Memories of Mom Tablescape Tour.
These Dishes hold a special childhood Memory of my Mom for me
I have a vivid memory of one wonderful summer that seemed to last forever. I was probably 9 or 10 and we played outside everyday and it was perfect. Everyday that summer, my mom would cook us a fabulous lunch. The garden obviously produced really well that summer. We had green beans, cantaloupe, corn, potatoes, and always home made biscuits. But the one thing that really sticks in my memory about that summer, is eating off these adorable dishes. I really think it's where my obsession with dishes began.
---
Mother's Day Brunch ideas
If you are looking for a perfect brunch menu, check out these "so easy even I'll make them recipes". If you like planning outdoor dining, here are my 9 Best Outdoor Dining Ideas.
Where did these dishes come from?
So you're probably asking yourself "where did these dishes come from?" Well, I never forgot these fun Boutonniere plates although they had long been gone from my Mom's table. We were out yard sailing, as I like to call it, one weekend and there they were! A whole set for only $10.00. Because I needed more dishes, wink-wink, home with me they came. This inspired the idea to use these dishes in memory of my Mom this Mother's Day!
Last summer, I ran across the glasses to match at a thrift store and you guessed it. I was thrilled. There's just something special about those childhood memories that come flooding back whenever, I look at these dishes. I know that their value is in their age and my memories. My mom probably got hers as a bonus for grocery shopping or collected green stamps to get them.

As we packed away my Mom's possessions, we didn't bring home a lot of valuable antiques or family heirlooms. But we brought home memories of a life well lived. Memories of a childhood filled with love, home cooked meal and a Mom who would give you the shirt off her back if you asked for it.
Memories of Mom!
I guess you could say this post isn't so much about my tablescape but about remembering our Mother's on their special day. My mom lived to be 98 years old. I was so blessed to have her in my life for so many years. So with tears in my eyes, I'll say, treasure your moments with your loved ones! And, Happy Mother's Day!
Thanks for stopping by. Be sure to HOP over and check out these other fabulous Spring Tablescapes.
Rachel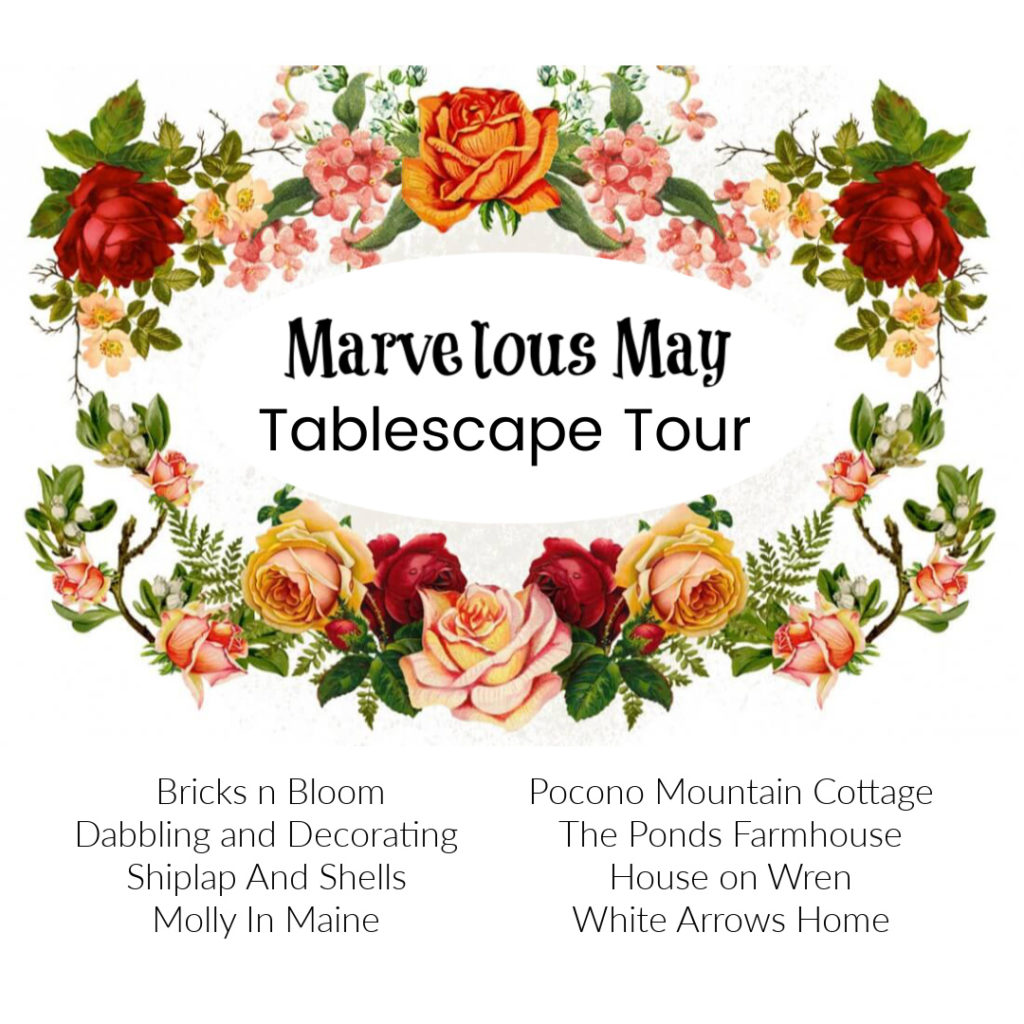 Follow the Tour
Stacy at Bricks n Bloom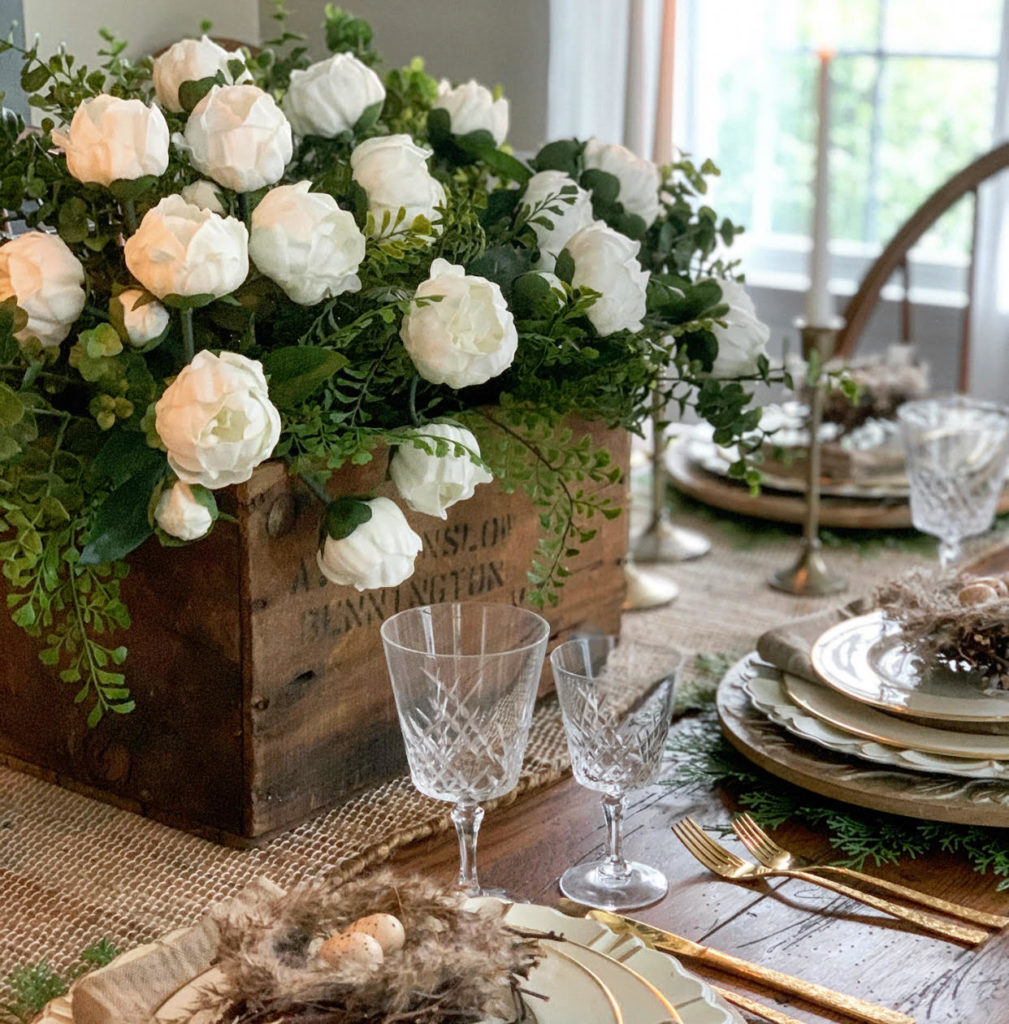 Ann at Dabbling and Decorating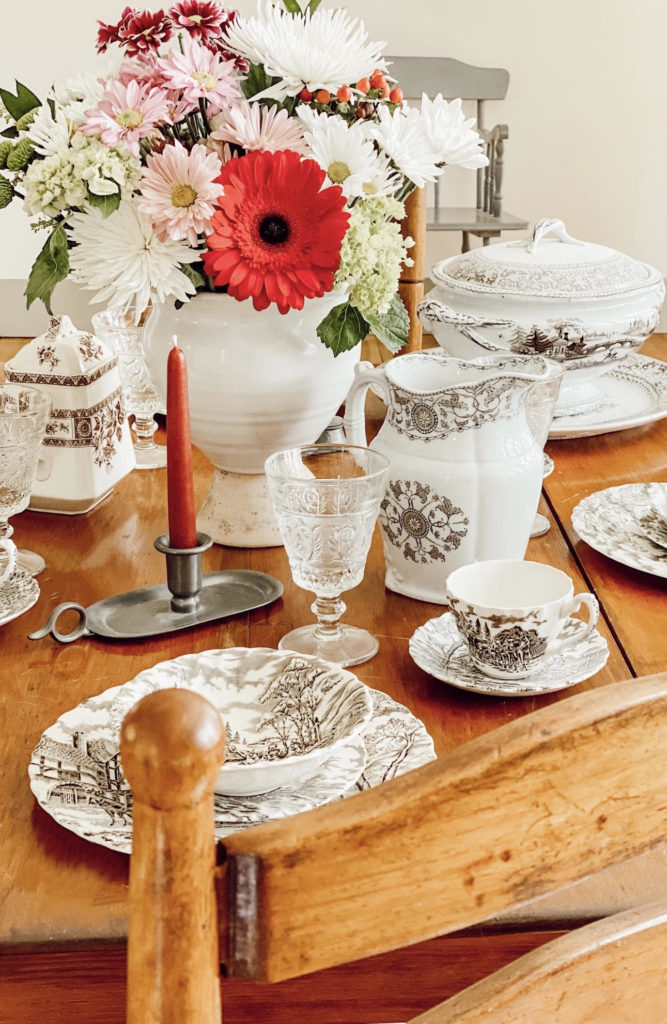 Kim at Shiplap and Shells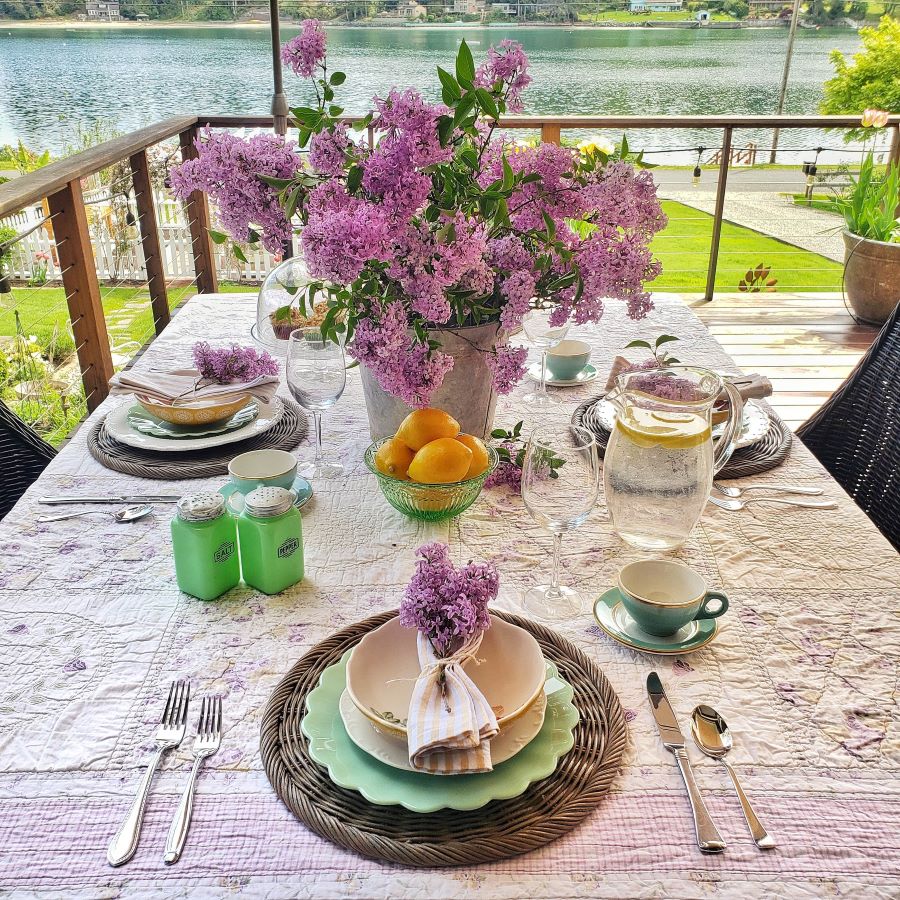 Kristin at White Arrows Home
Pin It To Remember It