Welcome to a look back at the First Week of 2021! Boy was it a long week! I feel like I'm still getting my feet back under me after slowing down over the holidays
Dirt Road Adventures – Welcome 2021, is a look back at what's been happening this week at the end of the our Dirt Road! In addition, I'm sharing what my friends have been doing off the Dirt Road.
Do you struggle getting the house back in order after the holidays?
Are you someone who likes to get organized at the beginning of the new year?
Or do you want to eat healthier?
Do you want to learn more in 2021?
Well, since I'm not good at everything, LOL! I'm sharing several posts from friends, to help you with the above issues.
This is a look back at all my adventures this past week.
First, here is what I've personally been up to.
The week began with a few new recipes and both are really delicious.
On New Year's Eve we tried a Oven Oyster Roast and OMGosh! Yummy!
Healthy Recipe
One of my favorite Dirt Road Adventures was making some fresh beets.
I don't usually share more than one recipe a week but these were so good, I couldn't resist. You are going to love "Hard to Beat Those Beets Recipe."
Adventures in iPhone Photography on the Dirt road
You can learn to take fabulous photo's with these tips and you don't need an expensive camera to do so. The smart phone cameras have all the capabilities most of us will ever need.
See all the tips and tricks here.
Beat the Winter's Blues – Dirt Road Decorating adventures
See how to keep your home cozy but never dull with these Winter Decorating Tips.
Adventures off the Dirt Road
Why Didn't I Think of That?
Each week there are so many wonderful blog posts, and I'm sharing some of my favorites with you today.
There are so many creative ideas, and I'm always asking myself, "Why didn't I think of that"? LOL
---
Getting organized – 2021
I don't pretend to be an organized person so you know this didn't come from The Dirt Road! LOL
I'm a fly by the seat of my pants kind of girl. So as much as I wanted to write a blog post about getting organized, I knew it wouldn't ring true.
Therefore, I'm sharing this beautiful article from my friend Co Co at The Crowned Goat.
Winter Blues-Off the Dirt Road
Another great way to beat the winter blues (no pun intended), is to fill your home with beautiful shades of blue. KariAnne at Thistlewoods Farm certainly has an eye for mixing patterns and her home is so lovely.
Enjoy all her gorgeous blues here.
Vintage DIY
Michelle at The Painted Hinge shared how to make paperback books look like old vintage books. Y'all know I'm all over this project. I can't wait to give it a try. They look so authentic.
If you want to give it a try, here is everything you need to know.
Winter Reading
I love to read and actually have more time to do so in the winter. My friend Kristin, at White Arrows Home always knows which books I should be reading and I thought I'd share her choices with you today.
Here is what Kristin has been reading.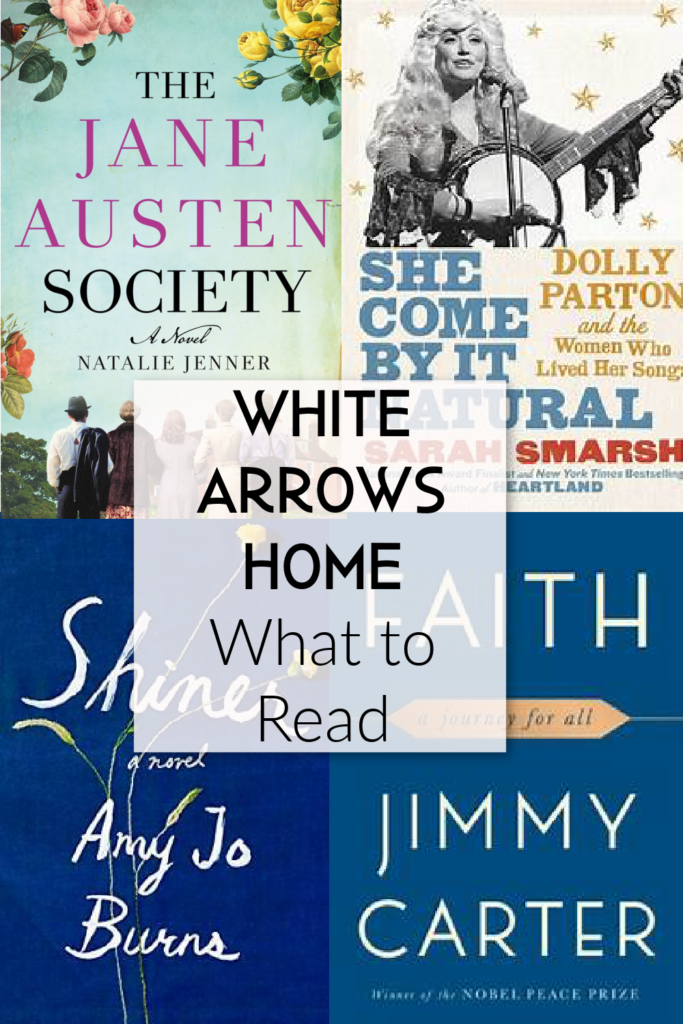 Thank you so much for showing up each week and if there is something you'd like to see more or less of, you comments and thoughts are always appreciated.
Have a wonderful day!
Rachel
Shop this Post – Click on Photo for Details