Y'all, last week was a whirlwind of activities. I had the most blog posts obligations ever. I hope you enjoyed all the different topics. I'll be sharing some behind the scenes adventures and sharing about all the changes getting ready to happen here at the Ponds.
Today on Dirt Road Adventures – New Adventures, I'm looking forward to sharing some exciting news and bring you up to date on all things happening this past week. In addition, I'll share some of the fun adventures happening off the dirt road with my blogging friends.
The Exciting New adventure begins
I have some exciting news!! In less than a week my husband will officially be my full time handy man. LOL.
The company my husband has worked with for almost 45 years, offered an early retirement package to a select group of employees. This was so unexpected, but was a dream come true for us.
Over the past few weeks, we have felt like everything we have been working toward, just fell into place. We are truly blessed and know that by following our hearts, we made the right decisions.
You may know that we down sized and moved here to the Ponds in preparation for this day. We wanted to be in a position for my husband to retire without worry of debt.
I shared a post with you two weeks ago, but if you missed seeing why we did what we did, click here for more details.
It's very scary to make changes to your lifestyle. As we started our down sizing adventure, we were uncertain that we would adapt easily. We were making a lot of changes all at once.
Living a Country Lifestyle
Living 20 minutes from town
Moving away from all our friends
Building a smaller home
All the work that would be required to refurbish the property.
However, 5 years into this adventure, we wouldn't change a thing and we certainly are excited to see what this new adventure holds for us.
I share this with you today, in hope that it will encourage you to follow your heart and your instincts to live your best life.
(Posts on The Ponds Farmhouse may contain affiliate links. As an Amazon Associate, I earn from qualifying purchases. See the full disclosure details here.)
---
In other Dirt Road Adventures
I began the week with a fun girlfriend, sister, mother, grandmother or anyone, Easter Gift Idea.
Next, I took you on a Easter Screened Porch Spring Tour with some other fabulous bloggers.
Next, my girlfriends and I shared our Spring Tablescapes for our monthly Virtual Supper Club Parties.

---
Finally, we ended the week with all our recipes for our party. I was responsible for the dessert and here's my Kahlua & Blue Bunny Delight recipe.
---
Adventures off the Dirt Road
Why Didn't I Think of That?
Each week there are so many wonderful blog posts, and I'm sharing some of my favorites with you today.
There are so many creative ideas, and I'm always asking myself, "Why didn't I think of that"? LOL
I can't resist sharing one more tablescape with you this week. I just adore how Kristin at White Arrows Home style her Spring Table. The red and white dishes mixed with a birdhouse theme is just adorable.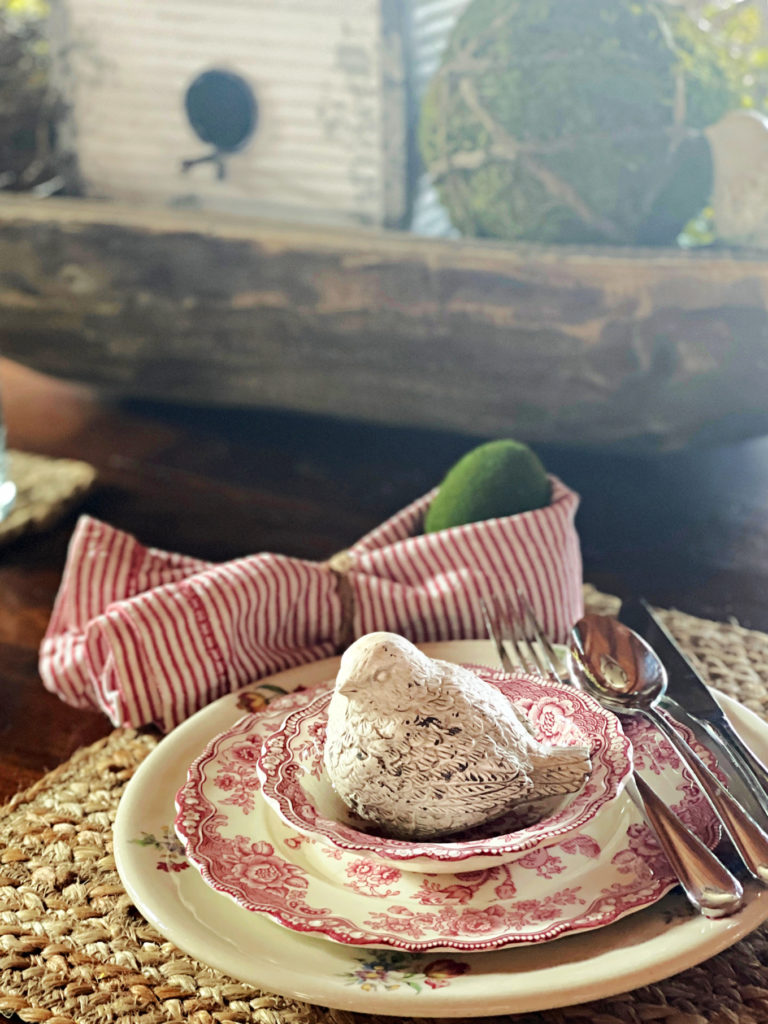 ---
A Gardening Adventure
My friend Kim at Shiplap & Shells shares a Gardening by The Month series for PNW, however, you can adapt it to your region. So much information and inspiration.
---
An Easter Craft Adventure
My friend Leslie at My 100 Year Old Home shared these cute and easy Copper Foil Eggs. I can't wait to try this craft. Check out her blog post for all the details.
Spring Decorating Adventure
Robyn at Robyn's French Nest shared Three Mantel Styling Ideas for Spring. I just love her vintage style.
I hope you enjoyed this past weeks adventures. I look forward to sharing a new DIY Project with you this last week of March.
Have the best Sunday!