Happy week before Mother's Day! I thought I'd share a look back at this past week and give you some Mother's Day Inspiration as well.
Welcome to Dirt Road Adventures – Mother's Day Ideas. This past week I shared a Mother's Day Brunch Menu and Recipes that are so easy even I'll make them. I wanted to expand on that post and share some Mother's Day Gift Ideas and other tips for Mother's Day with you. In addition, I'll be sharing some of my favorite blog posts from my friends.
Memories Of Mom – Mother's Day Ideas
This will be the second Mother's Day without my mom and last year I created a Memories of Mom Tablescape in her honor. My friend Ann from Dabbling and Decorating also created a tablescape in memory of her Mom, In My Mother's Home. We both shared these tablescapes in one of my first blog hops. We never get over the loss of our Mom's and it was so special for Ann and I to both honor our mom's in this way. Here are a couple of the photo's from last year.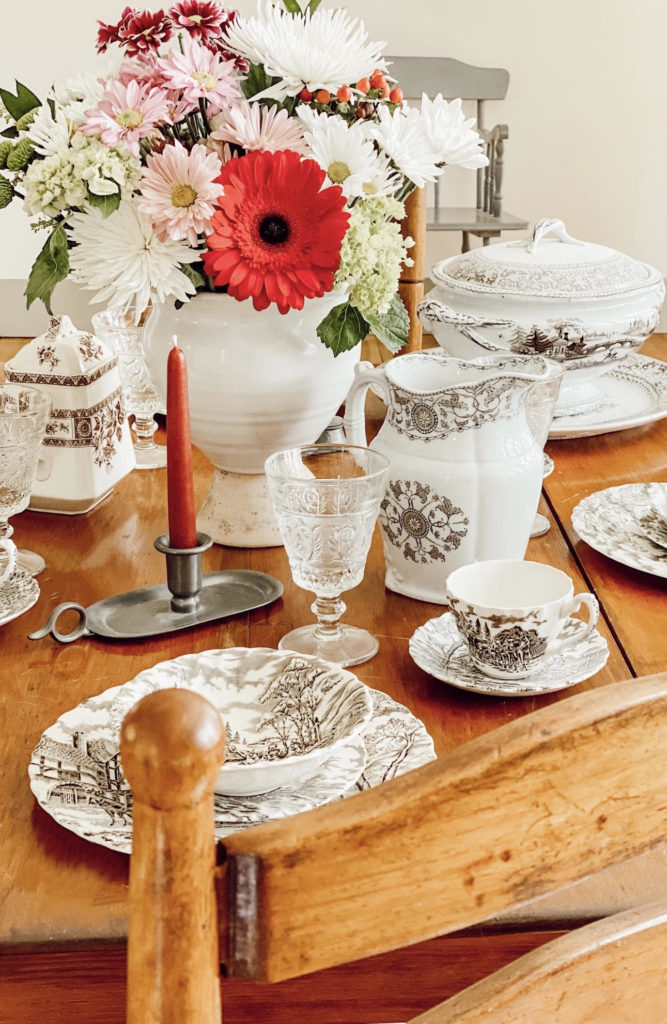 You can read the full blog post and link to Ann's at Memories of Mom Tablescape.
This is a look back at all my adventures this past week.
First, I shared Best Farmhouse Kitchen Ideas which was part of a Pinterest Challenge
Then I shared these Easy Brunch Menu Recipes for Mother's Day!
In addition, I worked with my husband to build an addition to our storage building. I also worked in the garden and managed to get some plants in the ground. I took advantage of the flowers already in bloom and will be sharing those with you next week.
I shared this project with you a few weeks ago, but it's not to late to make one for Mother's Day! This fun scrap fabric pillow can be made using sentimental fabrics, such as children's clothing and would be treasured by any mom. You can see How to Make a Scrap Fabric Flower Pillow Here.
---
What Will Be In Bloom for Mother's Day?
Here are some updates on what's blooming at the end of the Dirt Road. Do you remember this view from last week? The buds were there but not in full bloom. I hope these hang around for at least another week.
Both of the petunia plants are volunteer from last year. They are already glorious.
The lilacs popped out over night. I'll share some more of these gorgeous blooms next week.
---
Adventures off the Dirt Road
Why Didn't I Think of That?
Each week there are so many wonderful blog posts, and I'm sharing some of my favorites with you today.
There are so many creative ideas, and I'm always asking myself, "Why didn't I think of that"? LOL
Y'all know I love a good tin can craft and I fell in love with this vintage inspired look that Rachelle at My Hubbard Home shared. These would be so lovely for Mother's Day Gifts as well.
Beth at Creatively Beth designed these adorable free printable Mother's Day Cards. What a great idea. Click here to see all the details.
Kim at Shiplap and Shells shared Mother's Day Inspiration in the Garden and I know you'll be inspired by her tips.
My good friend Kristin at White Arrows Home, who I rely on for my next great book, shared her latest recommendations here.
More Great Ideas for Mother's Day
For The Gardener

For Pampering or Me time

For The Cook or Entertainer