It's Labor Day weekend and you know what that means! These last days of summer are here and beginning this week Fall Decorating will be on!
This past week I shared a couple of fall DIY projects and I have more to come. I also found some great ideas and tips around the web and I'm going to share my favorites with you.
Vacation Time
I've been at our beach cottage for over a week. The trip began with a Girls Weekend before my husband joined me here on Monday.
We shopped til we dropped and ate way to much food.
Below is our brunch table hosted by one of my beach neighbors. If you saw my stories, you know I provided Artichoke and Sun-dried Tomato Bites.
The entire weekend was full of laughter and great girlfriend time.
Girl Friend time is so important for your mental health and physical health. You can read How to Plan Girlfriend Time for more information and here's another girlfriend brunch idea.
---
The Rest of the Vacation Time
My husband joined me on Monday and the week has flown by.
One day we went back to one of my favorite shops, Vintage Market Place in Wilmington NC for Thrifting with the Gals. I saw a beautiful old quilt that I can't get out of my mind.
Then Ann from Dabbling and Decorating shared How to Fold and Display Heirloom Quilts. You will love her tips!
I may have to make a return trip for that quilt.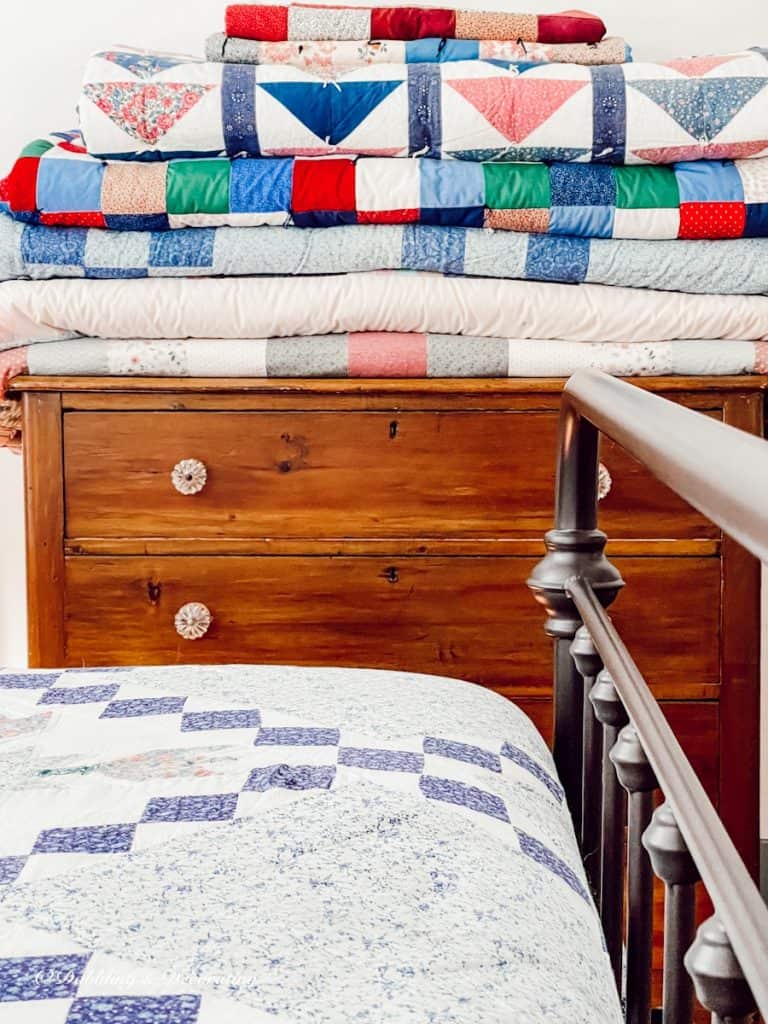 It's been a great week and a wonderful way to usher summer out and feel refreshed and ready to tackle fall.
We will travel home after the Labor Day weekend, relaxed and ready for more adventures.
---
This is a look back at all my adventures this past week.
Although I was at the beach, I shared a couple of DIY Projects that I had completed just before leaving The Ponds. I'm loving how they turned out and
IN CASE YOU MISSED IT –
Fall Decor Time
You will learn that I rusted some tin can for a project that turned out better than I even imagined.
DIY Fall Wreath – Easy Tin Can Craft
I am thrilled with how this project turned out and the response has been great. If you missed it, you can see all the details here.
---
Adventures off the Dirt Road
Why Didn't I Think of That?
Each week there are so many wonderful blog posts, and I'm sharing some of my favorites with you today.
There are so many creative ideas, and I'm always asking myself, "Why didn't I think of that"? LOL
I found two great posts with tips on How to Transition For Fall! The first one comes from Debra at Common Ground
Amber from Follow The Yellow Brick Home also shared a wonderful post on How to Transition from Summer to Fall Decor.
DIY Adventures
Robyn at Robyn's French Nest shared this creative diy centerpiece. I really need one of these. Hint, Hint hubby!
Carol from Blue Sky at Home shared Three Quick Craft Projects for your Home & Table. I loved the copper leaf glasses.
Chas at Chas Crazy Creations shared DIY Pumpkin Decor Using A Glass Bottle – So cute!
---
Gardening Adventures
You don't have to look far to find great gardening tips for any season.
Stacy Ling at Bricks N Blooms shared Fall Garden- What to Plant?
Kim at Shiplap and Shells – How to Attract Pollinators to your Garden.
Kristin at White Arrows Home – Beautiful Ways to Decorate with Mums
These are my go to garden experts and they try have the best tips.
A Simple Life
I realized this week, 5 years ago, we were just finishing our farmhouse and so many wonderful things have happened since. You might like to ready – Crazy Think About Living a Simple Life. I hope to write a follow up to that post soon.
Thanks so much for stopping by Dirt Road Adventures this week. I hope you found some inspiration along the way!
Have a wonderful Labor Day!