Have you decorated for fall? Even if you have completely finished decorating, now is a great time to check out all the Fall Decor online. Many items are already on sale and you can update your Fall Decor with some really cute new items or save them for next year. In addition, now it a great time to check out all the Thrift Stores.
In order to stay organized, there are 7 categories that I shop seasonally. Here are my top 7 Must Have Items For Fall, some DIY projects and other fall decorating tips. In addition to scrolling online, this is great time to look for fall décor at thrift stores. Many items that were pulled out of storage bins have now been donated or consigned.
Pumpkins Are always a Must Have for Fall
Are you a fan of pumpkins and if so, do you prefer real or faux? Although real pumpkins are great, they are very expensive and only last one season. So here are some cute faux alternatives that you might love and more than a few have been added to my must have list.
If you prefer more unique or one of a kind pumpkins, click here to see my latest post for a pumpkin tutorial. In addition, Dollar Store or thrift store pumpkins are great for this project.
Here is another project that I've been wanting to try for some time, but unfortunately have not done so. However, these look so easy and they are definitely super cute, so I wanted to share this fun DIY concrete Pumpkin Tutorial with you. You can see the tutorial here.
# 2 Must Have – Fall Pillows
In addition to pumpkins, pillows are another favorite way to decorate for the fall season. Pillows are relatively inexpensive and add so much color to all areas of your home.
You can also find great pillow deals at thrift stores and consignment shops.
Best Tip: If you see an ugly pillow for cheap, check the filler. If it's down filled and in good condition, always snag it because you can add an inexpensive cute pillow cover. Just use with the down pillow filler with the new pillow cover and discard the ugly pillow cover.
If you prefer a handmade pillow, you might like these fun hand painted pillow covers.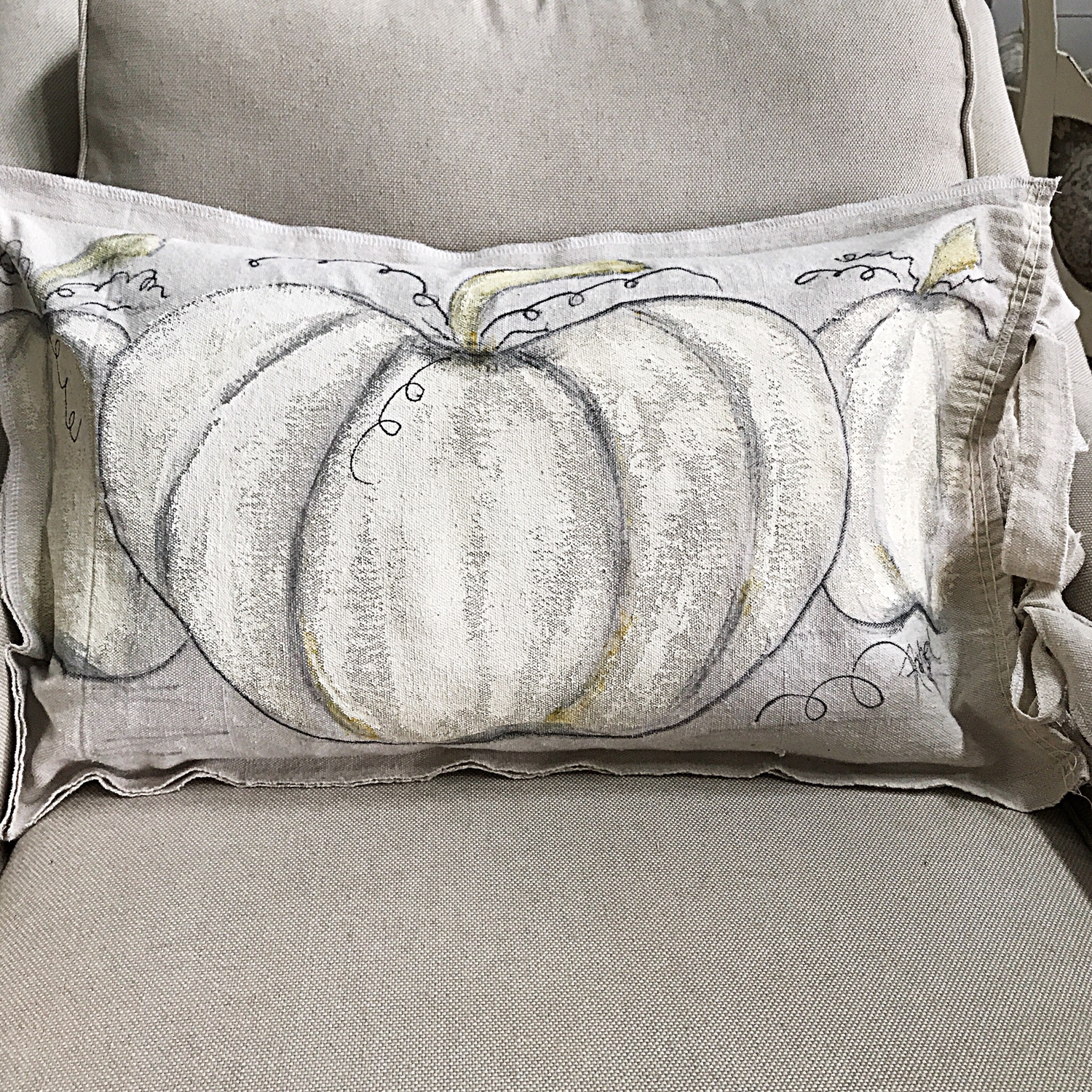 Fall Wreaths – Another Must Have
Did you know that some people only place wreaths on their doors at Christmas?
In recent years, the wreath has become an almost permanent fixture on American door fronts. It's like a welcoming gesture to invite people to visit and it's # 3 of the 7 must have items to make your home more inviting for fall. So here are some really gorgeous fall wreaths for you to drool over.
Another Thrift Store Tip: Even plain wreaths can be expensive so if you are crafty, you may want to check out the base of those ugly wreaths. If you can use the base and add pretty new floral or greenery, it can be a great deal.
Candles and Candle Holders
Candles are another way to add warmth and keep your home smelling wonderful in the fall. Antique Candle Company is a favorite source for seasonal candles because they are a great quality and are safely poured into heavy duty jars. In addition, they burn for hours and hours. You can see all their fall and holiday selections here, on their site.
One favorite way to display candles is to use a hurricane lantern and fill in around the candle with seasonal décor such as acorns or nuts for a fun display.
You must have throw Blankets
A warm chunky throw blanket is perfect for outdoor seating areas as well as areas within the home where guest linger. As the temperatures start to drop, a handy blanket will be most welcomed and you'll see why it's definitely one the 7 must items for fall. Here are some really cute and irresistible ones.
Must Have Rugs for Fall
Although most rugs are not seasonal and are used 24/7, it's always fun to add a season touch especially around the front door. Therefore, most companies offer cute throw rugs for a seasonal change. Therefore, some cute Fall rugs have been added for your convenience.
Halloween
Halloween is another fun category to shop for because, well, it's just fun. There are so many cute and creative items for Halloween and some of these items may encourage you to throw a party.
Added Bonus