Happy Easter Friends! I'm so glad you took a break from all the Easter Festivities to stop by today.
Do you have annual Easter Traditions?
We almost always spend Easter at the Beach.
Some years we freeze and some we get to soak up the sun.
Regardless, it's always the start of our beach season.
This year we have been basking in our newly remodeled cottage. We are still amazed at how different everything looks.
If you missed the Tiny Beach Cottage Makeover Before and After, you can still see it here.
---
This is a look back at all my adventures this past week.
We've been at the beach cottage since Wednesday and I've enjoyed a little thrifting and dining out when we first arrived.
Once the crowds rolled in, we stick a little closer to home.
Do you remember the projects I shared last Sunday? Well, I finished a few of the trending projects and wanted to give you an update.
First, is the basket and cloche trend which I'm using at the beach cottage. I found this cute wooden sea turtle while out Thrifting with the Gals and he looks perfect under the cloche.
I finished the $1.00 Thrift Store lamp makeover using the paper napkins that I shared with you last Sunday. If you love the blue and white distressed porcelain vase trend, you will love how this lamp turned out. See all the details here.
It was so sweet of Mary at Life at Bella Terra to feature this project on her weekly, Saturday Meanderings.
I'll be sharing a few more DIY Trending Projects this week, so stay tuned.
---
In Case You Missed It!
I love a great before and after, especially when it's a thrifted or flea market flip. Earlier in the week, I shared The 9 Best Repurposed or Up Cycled Ideas yet!
Are you by chance serving any of the 7 Easter Dessert Recipes I shared on Wednesday? Please let me know if you tried any of the "it's so easy even I'll make it" recipes.
But if you missed them, just click the highlighted post name above.
I'm so excited that y'all loved my Farmhouse Porch Ideas for Spring. This may be my most featured post ever.
I was so honored to be feature on Fabulous Friday Link Party, Farmhouse Friday, Cottage on Bunker Hills Weekly Rewind, and Thistle Keeping.
If you missed that post, you can link here.
---
Adventures off the Dirt Road
Why Didn't I Think of That?
Each week there are so many wonderful blog posts, and I'm sharing some of my favorites with you today.
There are so many creative ideas, and I'm always asking myself, "Why didn't I think of that"? LOL
There's time for one more Easter idea! Am I right?
I loved Amber's idea of an Easter Bunny in the Tulips. It's such a cute Easter display for the garden.
Check out Stacy's Front Entry Makeover! You will not believe how it looks now.
Kim shared this Tour of her Early Spring Garden. Stunning!
What a great upcycle idea! See Jen's Spring DIY Upcycled Chair Planter idea.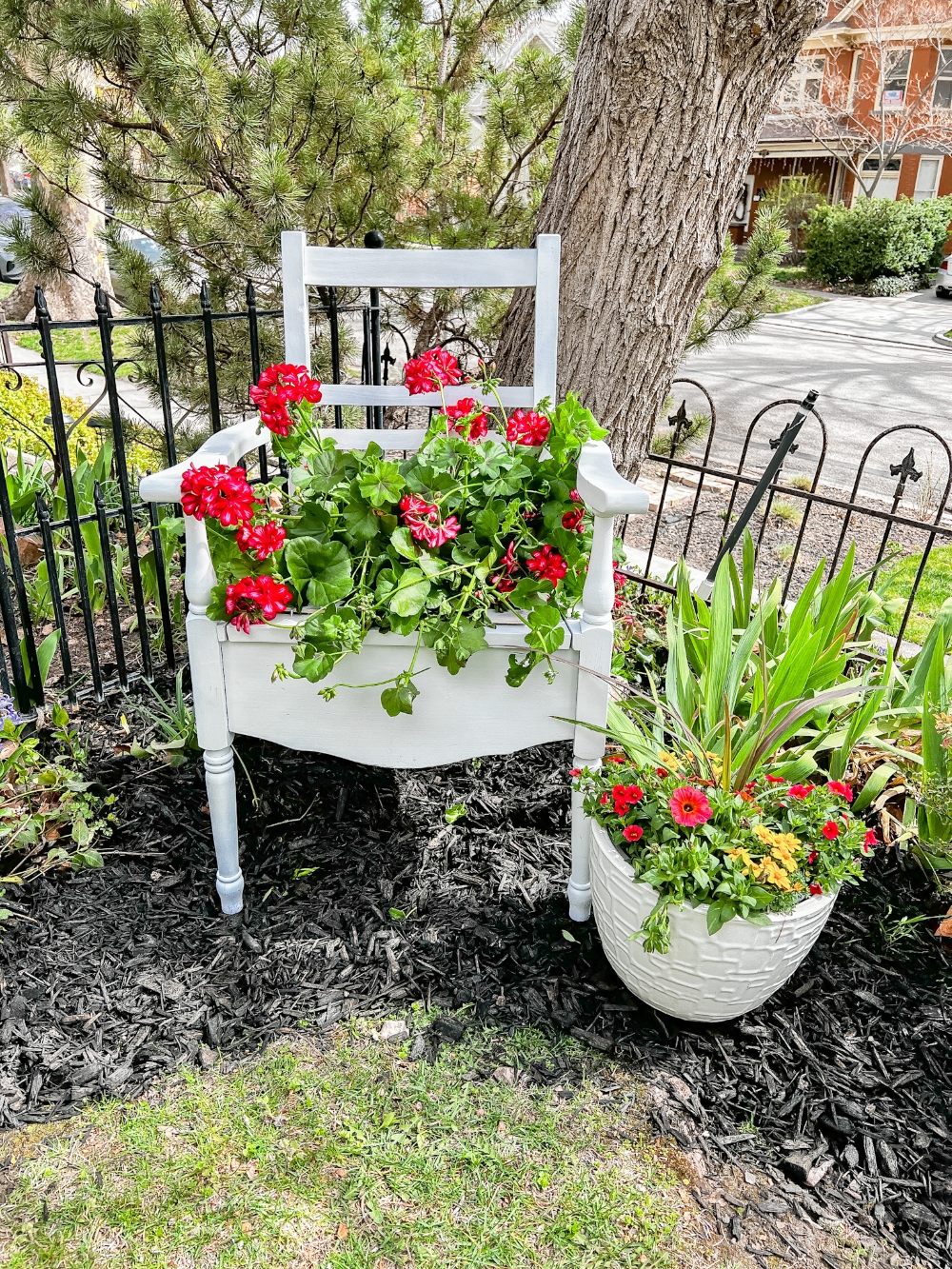 See this Coastal Beach House Tour and the lovely story behind KariAnne's families vacation home .
I've always wanted to make a Paper Mache Bowl, have you? See Jennifer's tutorial here.
Are you planning a Kentucky Derby Party? Check out Renae's Kentucky Derby Hot Brown Sandwich Recipe.
If you are a vintage lover, you will not want to miss Ann's Vintage Porch Haul.
More great ideas – Simple Ways to Create a Welcoming Front Entry from Simply 2 Mom's.
Another great vintage upcycle idea. See Libbie's Vintage Find into Drink table.
Plus, you have to see CoCo's Easy Styling Tips for a Dining Room Hutch. So many great tips.
---
What's in my Cart
What great hostess gift ideas. See all of Antique Candle Co.'s candles here.
I ordered my husband these super comfortable shoes.
I'm thinking about this cloche.
I just got these white jeans and I LOVE THEM!
Sweet Nights Global is still offering this extra 5% discount code: RHARPER for their Easter Sale. Rudy and I love sleeping on this mattress.
Thanks so much for stopping by this week. I have more DIY projects and some great Thrifting with the Gals adventures to share with you later this week.
Have a wonderful Easter!