Y'all , don't you just love Christmas? I love seeing how everyone decorates for the holidays and decided I'd share some of my favorite views with you today.
This week has been so fun and so busy. We had our annual Christmas party last night. It was so good to plan again this year after not getting to host in 2020.
I'll share some of the highlights next week.
In case you missed it
In preparation of the party, we added some additional exterior lighting from AQ Lighting. If you missed what an impact the lights made, check it out here. Plus, they are offering a 10% discount with code: HOLIDAY10
I shared our Christmas Porch Tour which includes all the updates we've made to the porch this year.
I also shared another Scrap Fabric Pillow Tutorial and it's so easy to make.
A simple DIY Holiday Candle Ring or mini wreath.
Distressed Christmas Stockings – Easy Sew or No Sew Methods!
Favorite Christmas Views
I'm inspired by some many talented bloggers and instagram accounts. Here are some of my favorites from this week.
I loved seeing this creative table decor from Ann at Dabbling and Decorating – Ski Lodge Inspired Christmas Decor
Country Christmas in the Cabin from Kristin at White Arrows Home is filled with Winter Wonderland Christmas Inspiration.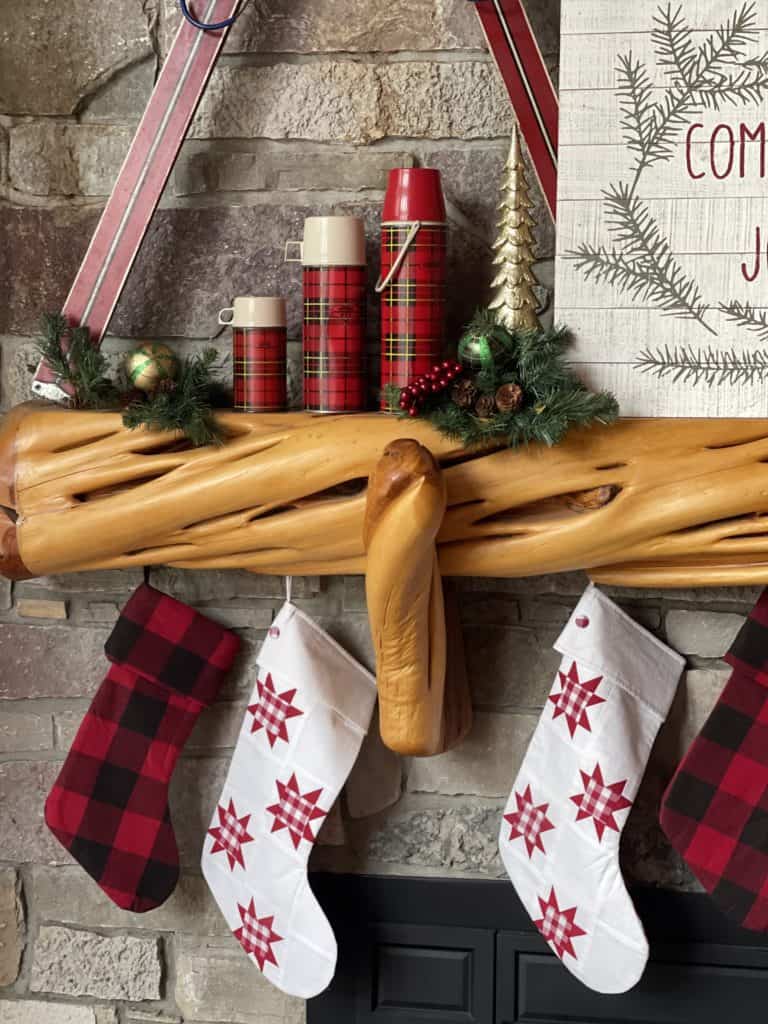 Robyn at Robyn's French Nest has the best vintage pieces and I love her tips on Creating a Cozy Neutral Christmas Decor.
5 Ideas for Creative Christmas Table is from last year but it's full of great ideas. .
Bits and Pieces
If you are planning to move anytime soon, check out these great tips.
If you've ever wanted to live on a boat or at least vacation on a boat, you have to see this one.
If you like Christmas Cut Out Cookies, check out this recipe.
From Instagram – Click on Account name
Molly in Maine never disappoints with her beautiful home on the coast of Maine. Her tree is amazing.
Amy from Rachel's Garden Art by Amy is so creative and I love all her vignettes and this cute tree.
Becca at Adventures in Decorating 1 has so many stunning holiday views this year.
Check out Lisa at A Simply Styled Nest and all her red Christmas touches. So stunning.
Looking for bedroom inspiration? Check at this stunning bedroom for Christmas by Kelly at Farm Table Creations.
This stunning home in Cape Cod from Sandra at Old Silver Shed
Oh and this stunning Mantel from Toni at Toni Marianna.
I love this rustic vignette from Amy at My Rustic House.
This is one gorgeous tree from Cindi at The Mustard Seed 205.
Other Great Deals for the week
FREE FIRST CLASS SHIPPING ON ALL PRINTS – HERE
You can also receive FREE FIRST CLASS shipping on these great decor items.
---
10% Discount with code – HOLIDAY10 from AQ LIghting.
Great offer's for Antique Candle Co. – Click here for details.
Thanks so much for stopping by today! I look forward to sharing more adventures with you this week.