I'm sorry that I didn't post a Dirt Road Adventures last week. Once we are in project mode, the time slips away and I always fail to get as many images as I would like. However, I do have a few to share with you this week.
We began our operation "closet addition" at our tiny 1940's beach cottage last week.
The tiny bedroom has two large windows but no closet. Since the windows need replacing due to some exterior rot, we decided to replace only one window and add a closet.
After the first day, we had the window replaced.
My husband and I don't rest until a project is complete.
We begin each project with these statements "We are not going to kill ourselves to get this done." "We are going to work a little and then enjoy our trip to the beach." "We will spread the work out over several days!"
We never stick to that plan and as you can see by day 2 – the closet was closed in and ready to be trimmed. LOL
We will be adding trim, painting and installing a barn door this coming week.
We may also begin replacing the flooring in the bedroom.
I can't wait to share the updated room with you once it's finished.
Next, we will be moving into the living room and kitchen so stay tuned all winter long.
---
Thrifting with The Gals
Another adventure from last week was our trip to The French Farmer's Wife Christmas Barn Sale!
It's always a highlight of my Christmas Shopping Season.
I left for the beach as soon as I returned home and I didn't get to share with you.
They have such great items and I'll share a few photo's here.
I like to purchase at least one unique items at each of their sales. This vintage french cheese board caught my eye and it's perfect here on our DIY kitchen island.
I can't wait to decorate it for Christmas!
You can contact Kathee and Gail here for information about available items.
---
---
In case you missed it
Last week, I shared a Thanksgiving Table Setting and a Caramel Apple Cider Martini Recipe along with a full Thanksgiving Menu and Recipes.
I also shared Autumn Decor using Elements of Nature and my 7 Favorite Thrift Store Makeovers and full tutorials.
---
Sneak Peak
My husband and I have been working on another project and I can't wait to share all the details with you.
Can you guess what this might be?
New Items that You don't want to miss
Antique Candle Co. Holiday Scents Spiced Cranberry is now available. Get 15% off thru 10/31/21 with code: FALL15
LevTex Home has the cutest Holiday Bedding and Rugs. Be sure to check them out and follow them on Instagram @levtexhome
Piper Classic has this cute Rag Garland this year as well as these other items that I'll be sharing with you soon.
Snowflake Napkin Rings / Vintage Snowman / Potted Tree & Bird Print / Alpine Cedar Candle Ring / Blue Stone Cedar Candle Ring
Adventures off the Dirt Road
Why Didn't I Think of That?
Each week there are so many wonderful blog posts, and I'm sharing some of my favorites with you today.
There are so many creative ideas, and I'm always asking myself, "Why didn't I think of that"? LOL
My friend Laura at Decor to Adore shared a tutorial to make this Gratitude Tree which doubles as a beautiful centerpiece for her Thanksgiving Table. Such a great idea and one that I'm definitely pinning for next year.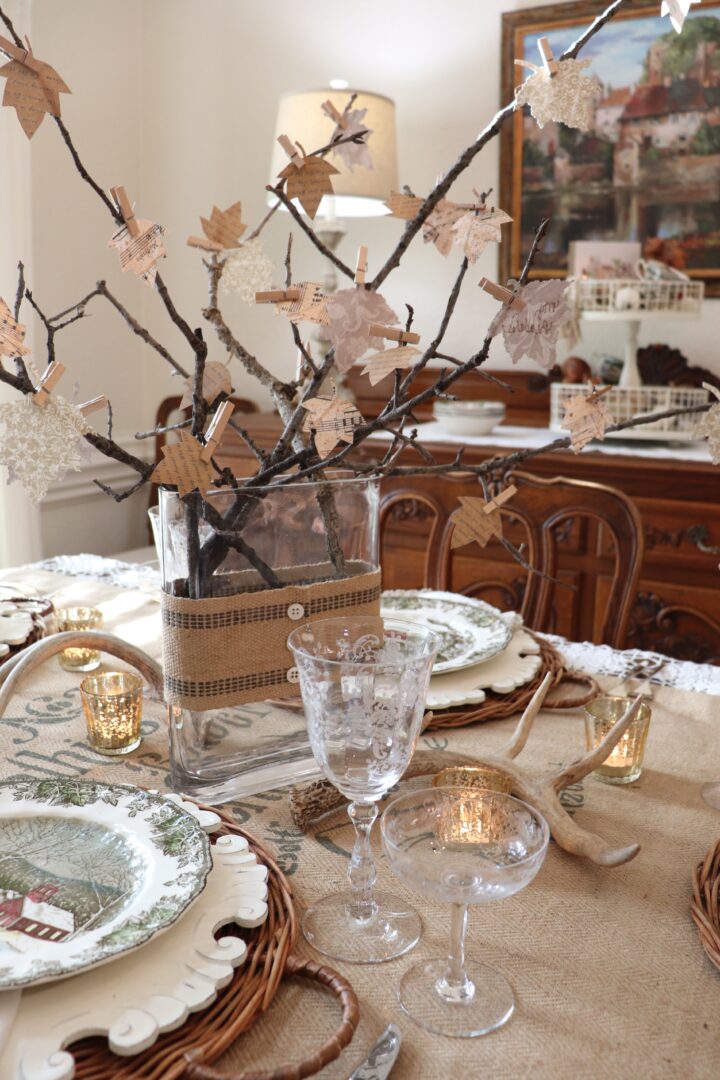 Stacy at Bricks N Blooms always has the best tips for planting your gardens year round. This week she shared 5 Easy Ways to Plant for Fall.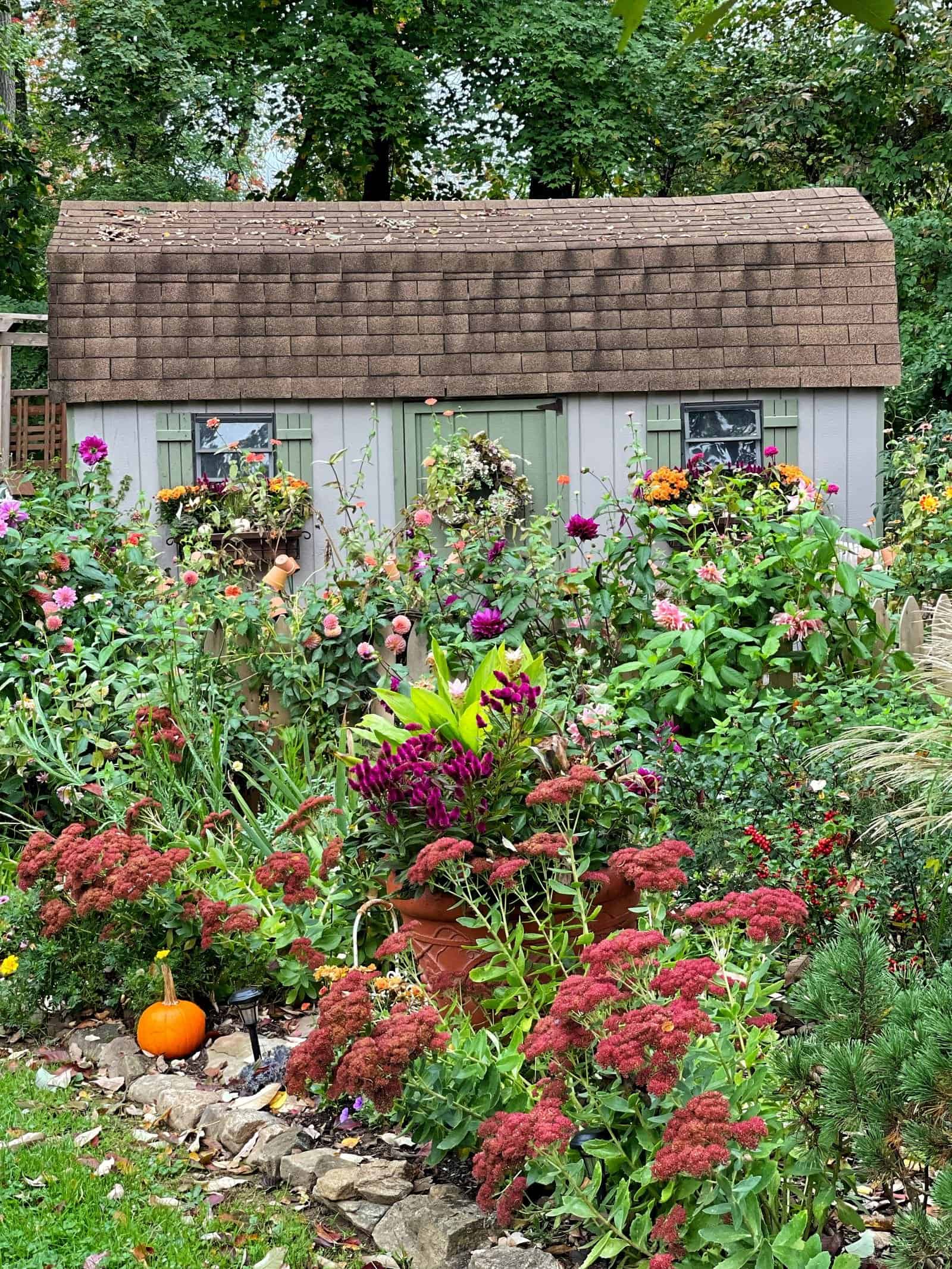 How to Determine the Best Time to Divide Perennials is a great reference from Kim at Shiplap and Shells.
Bits and Pieces
Halloween Spirit of 2021 is super cute! Check out all the details at Dabbling and Decorating.
KariAnne at Thistlewood Farm shared How to Create Faux Wallpaper with a Stencil. Super cute idea.
Check out these Free Thanksgiving Menu and Place Card Printable from Jen at Midwest Life & Style.
Jenn at Down Shiloh Road shared the cutest Friendsgiving Idea and recipe.
I really need help with organization and Robyn at Robyn's French Nest shared 5 Ways to Organize your Kitchen before the Holidays.
What's Next!!
So tomorrow is November 1st and that means Christmas will be in full swing over here on the dirt road.
However, we need to finish what we started in our beach cottage.
But don't despair because I've worked on a few DIY projects and will be sharing those with you during the week.
Once, this project is behind me, you will see a Christmas explosion. It's my favorite time of the year!
Thanks so much for stopping by today! I hope you enjoy all the ghosts and goblins tonight. We don't have any brave enough to venture down our dirt road. LOL