Wow, this has been such a busy week. I hope you enjoyed your first week of Spring.
Now that Spring has finally arrived, we hit the ground running with a new blog post every single day! Whew!
Although I was extremely busy, the pollen sent me to the doctor with a sinus infection. Thankfully, the meds have me almost back to normal.
Since I've not felt my best, my behind the scenes is a little on the light side this week.
However, I was able to go Thrifting with the Gals while I waited for my prescription to be filled. Since it took almost 2 hours (yeah! Crazy), I was able to stop in at several of my favorite spots and here's my haul.
The vintage wire rolling cart is my favorite find of the week. But the lamp will be super cute when I finish with it. I can see so much potential.
I also found two rolling pins from 2 different shops and both were a great deal.
However, getting 4 terra cotta saucers for only 75 cents just might be the best deal of the day.
Did you find any great deals this past week? Don't forget to share them with us on Instagram by using hashtag #thriftingwiththegals and tagging all the thrifting gals.
(Posts on The Ponds Farmhouse may contain affiliate links. As an Amazon Associate, I earn from qualifying purchases. See the full disclosure details here.)
This is a look back at all my adventures this past week.
In Case You Missed It
This past week was all about Spring and Easter!
First, these DIY Placemats were a great hit! They looked great on this Easter Brunch Table Setting.
On Wednesday, I shared 25+ Spring Home Tours including my farmhouse decorated for early Spring.
For a Pinterest Challenge, I shared this Easter Centerpiece. And in preparation for Easter, I shared these Mimosa Recipes and this Easter Brunch Menu with Recipes.
---
Adventures off the Dirt Road
Why Didn't I Think of That?
Each week there are so many wonderful blog posts, and I'm sharing some of my favorites with you today.
There are so many creative ideas, and I'm always asking myself, "Why didn't I think of that"? LOL
I love this Easy 30 Minute Spring Wreath – By Cindy at Cloches and Lavender. Dried lavender is a favorite of mine.
The container choices make this Flowering Bulb Vignettes so special – by: Debra at Common Ground
I said, "why didn't I think of this?" Such a cute DIY Spring Wreath – By: Regina at Saved By Salvage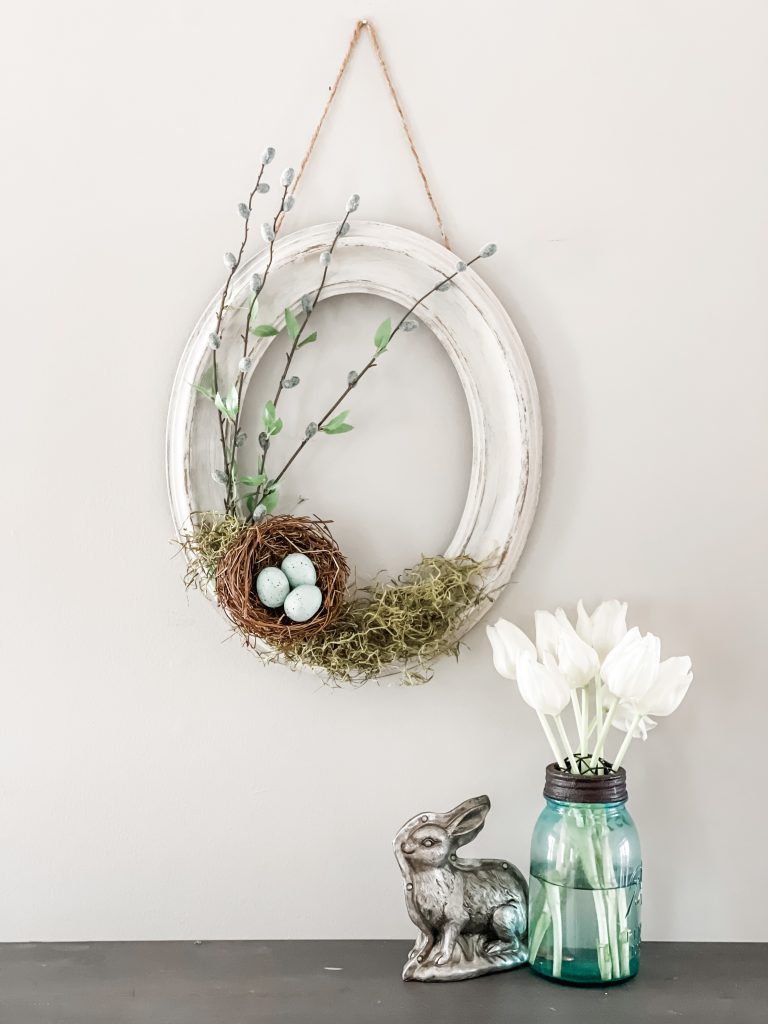 I have to make some of these Decoupage Easter Eggs – By: Donna at An Organized Season
More Inspiration
Easy Pottery Barn Easter Bunny Statue Dupe – by Jennifer at Midwest Life and Style
How to Make An Amazing Easter Tablescape with Neutral Colors – by Robyn's French Nest
How to Paint Wicker Furniture Shabby Chic Style – Dabbling & Decorating
DIY Buffalo Check Easter Wreath – Thistlewood Farms
Miniature Dollhouse Tour – The Curated Farmhouse
How to Set an Easy Easter Table (colorful table)- Cottage In the Mitten
9 Ways to Customize a Builder Grade Home – Pasha Is Home
---
You can order your own Antique Candle Co. testers now. I love these small candles and use them all over my home. Be sure to get yours before they sell out. See all their Spring Collection here as well.
See these cute porcelain mini cupcake stands here.
Thanks so much for stopping by this week. I appreciate your continued support and encouragement.