Welcome to the second Week of Dirt Road Adventures. This is where I share what I've been up to this past week, some behind the scenes kind of stuff and then what some of my friends have been doing that inspired me this week.
Happy Thanksgiving weekend and welcome to Dirt Road Adventures – All the things that have happened here, at the end of the dirt road, as well as some of my friends adventures.
Since we spent our Thanksgiving at our tiny beach cottage, I thought you might like to see a photo of the cottage.
We have spent so many fun times, in this tiny one bedroom cottage, over the past 30 years. One of the things that make this place so special is all of the neighbors are like family and we have such a wonderful time when we are all here together.
There are four cottages that all almost identical and are all owned by people from our home town. Below is a photo that I found on the Kure Beach Website under Life in Kure Beach and you can see the article here.
This photo is before some renovations were made to our cottage.
---
This is a look back at all my adventures this past week.
It was so fun to take another Pinterest Challenge this week. It's always interesting to see how everyone interprets the same inspiration photo.
How to style a Crate for Christmas – Pinterest Challenge
---
Because I get so many questions about my vintage shiny brite ornaments, I challenged myself to recreate the look on newer ornaments. The results could not have been better. If you love the look of vintage ornaments, you have to try this easy technique.
How to Age New Christmas Ornaments to look like Vintage Shiny Brites.
---
Adventures off the Dirt Road
Why Didn't I Think of That?
Each week there are so many wonderful blog posts, and I'm sharing some of my favorites with you today.
There are so many creative ideas, and I'm always asking myself, "Why didn't I think of that"? LOL
Let's begin this Thanksgiving Weekend getting prepared for the upcoming Christmas Holiday! I was inspired to try some new things that I saw my friends were doing this past week. Here's a recap.
---
Let's Repurpose – a crafty idea
My friend KariAnne has so many inspiring ideas but I really love how she repurposed these Christmas Cards.
5 Ways to Repurpose Christmas Cards – KariAnne at Thistlewoodfarms
---
Let's Create a Cozy Spot to Enjoy during the Holidays
Here, my friend Kristin, created a warm and inviting coffee bar. This is the perfect time of year to do one of these yourself. If you don't drink coffee, think Hot Chocolate.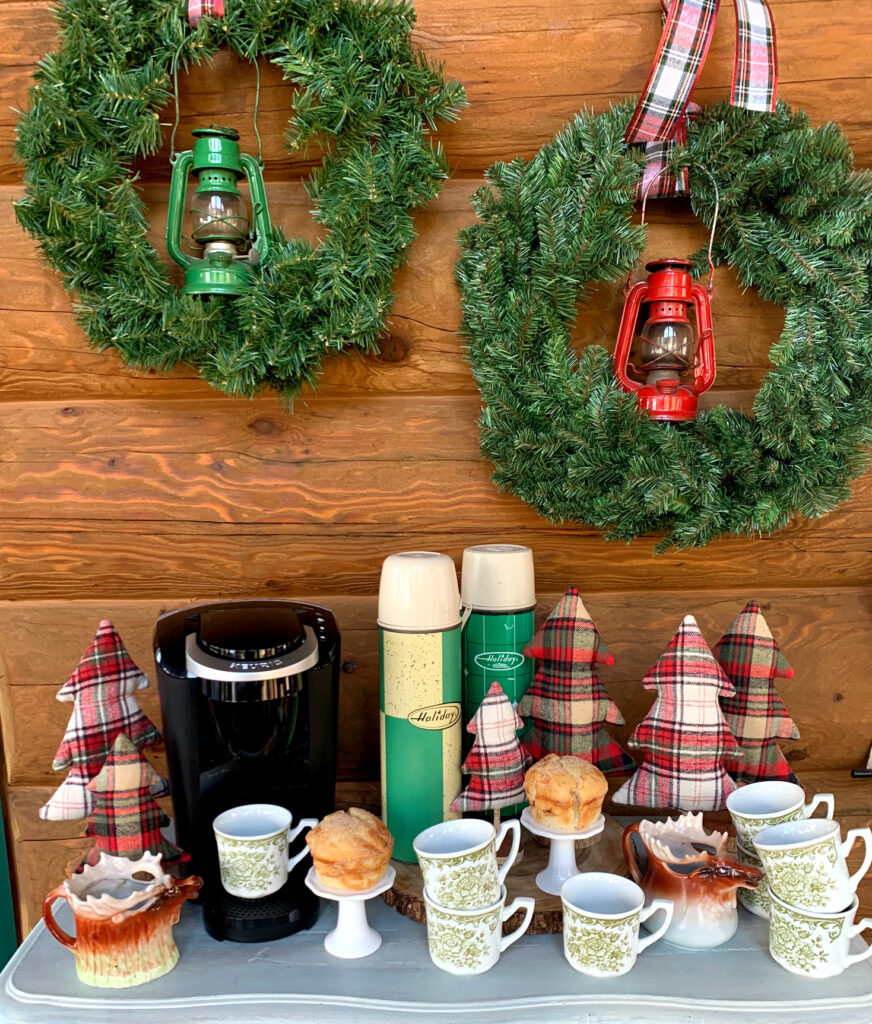 Kristin at White Arrows Home – Cozy Morning Coffee Bar
---
Let's Talk Gardening Adventure
You may be thinking, why are we talking gardening in November!!. Well, this idea came from my friend, Lana at Lana Stenner. She suggests growing year round vegetables and tells you how to do it. I thought this might be a fun project to share with your children this holiday season. Since most of us will be forced to stay home more, it will be a great time to do a useful project.
How to Grow Your Own Food from Seeds – Lana Stenner
---
Adventures in Shopping Here on the Dirt road
Since shopping is looking so different this year, here are some great finds and gift ideas that you might enjoy.
Both of these items from Amazon are still reflecting their PRIME DAYS Discount.
I personally added the Ring Doorbell and Echo Show during prime days and absolutely love both.
My husband uses the air fryer weekly. With colder weather, it will be used even more.
A great healthy way to cook at home. Below are some more items we own and really enjoy.
Click to shop
Thanks for stopping by. Have the Best Weekend! I look forward to sharing more adventures with you next week.